Keeping a perfect attendance at work is an achievement, but keeping that accomplishment is a giant whole of cake. Lalo na dito sa 'Pinas na madaming stoplights, traffic jams, and traffic enforcers, it's almost impossible to come to work early or on time every day.
But not for FilWeb Asia's senior writer Menard Duria, who has been a recipient of the Perfect Attendance Award for nearly 6 years. We had the opportunity to ask him the following questions regarding his success and how he maintains this incredible performance, because we know you're as curious as we were. So read on and be inspired with his story:
1. At exactly today (as you are answering this), how long have you been a part of FilWeb Asia and how many years have you been a recipient of the Perfect Attendance Award?
"I've been working here for 5 years and 10 months (started in Feb 2011 and signed the contract on April 21, 2011) and I've been a recipient of the Perfect Attendance Award for 22 times (22 quarters; 5 years and 2 quarters)."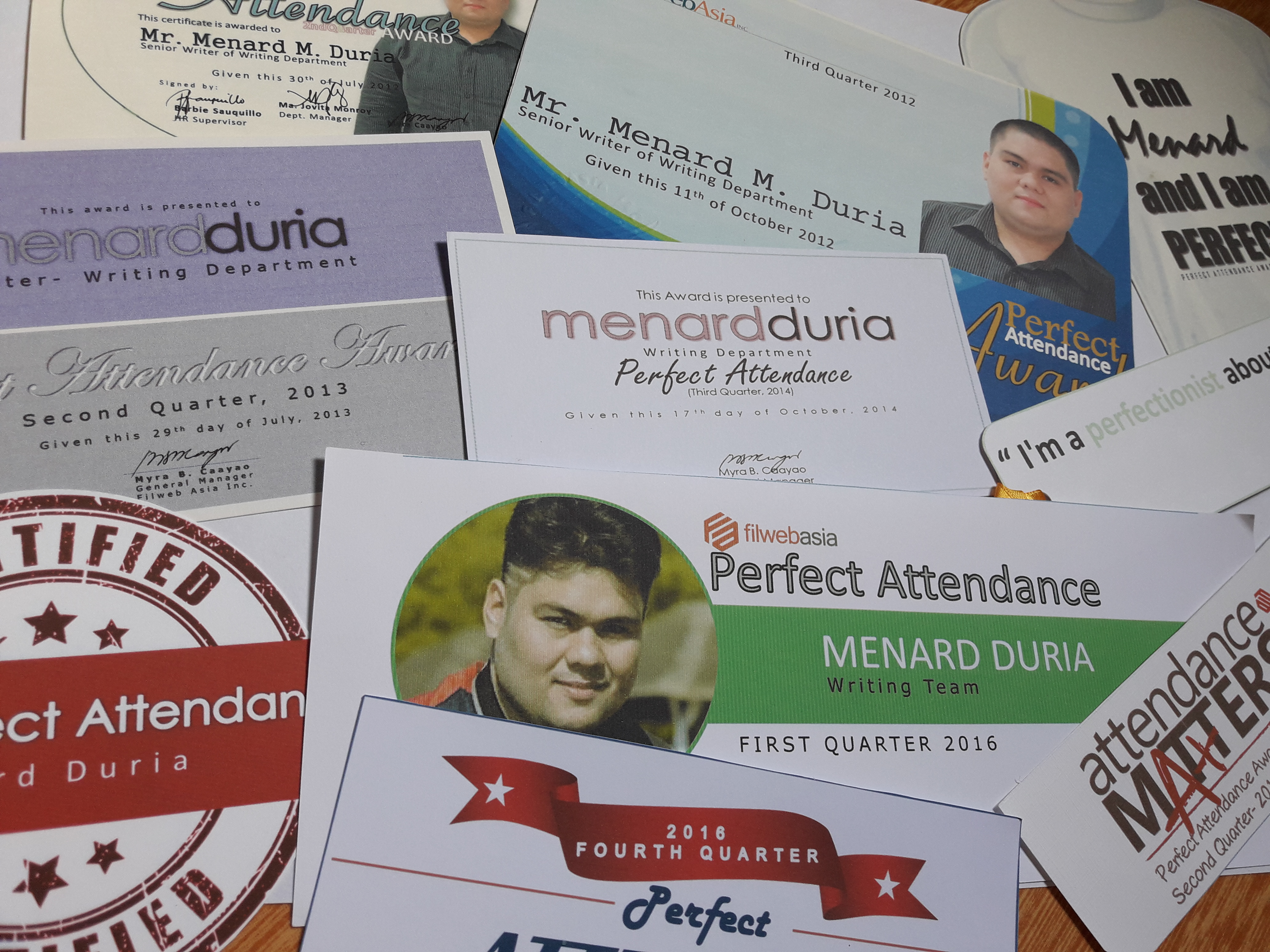 "Honestly, I missed one award for a quarter (3rd quarter ng 2011) dahil absent ako for 2 days dahil sa sakit ng likod ko, which prevented me from walking. But that was during my probationary period as an employee. Since my regularization (Dec. 1, 2011), I've been keeping a perfect attendance record."
Trivia: I got the "Hall of Fame" award in 2012, after completing 4 consecutive quarters.
2. How are you able to keep that impressive track record in your attendance and punctuality for that long?
"Actually, I don't see it (going to office on time) as a challenge. I believe it just runs through my system. Perhaps I got used to it. As a student, there were school years when I had no single absence. As I can recall it, I missed only a few days during certain school years, when I had sickness (notably dengue when I was in Grade 4) and injury (broken knee when I was in Grade 6). My parents didn't want us to miss any single day of schooling, especially for some "trivial" reasons. "
Trivia: Advance ng 1 hour ang oras sa wall clock namin since I was a child (hanggang ngayon na naging 1.5 hours na)! Seriously. Baka dahilan din ito kung bakit hindi ako nale-late.
3. What about those times that you were not feeling well or you have to attend on something important, what do you do?
"Since then, I only suffered minor sicknesses — cough and colds. But I made sure na makakapasok ako sa office. I just take medicine and eat fruits whenever I feel unwell. (I'm sorry kung nakakahawa ako.) What I usually take whenever I'm sick? Salt (naglalagay ako sa lalamunan to ease the sore throat; milk; and orange. 
Regarding sa mga documents na I need to process during weekdays, I attend to them during lunch break or kapag local holiday (sa San Pedro)."
4. Was it difficult?
"Somewhat difficult kasi nakakaapekto sa productivity 'yung pagkakaroon ng ubo at sipon."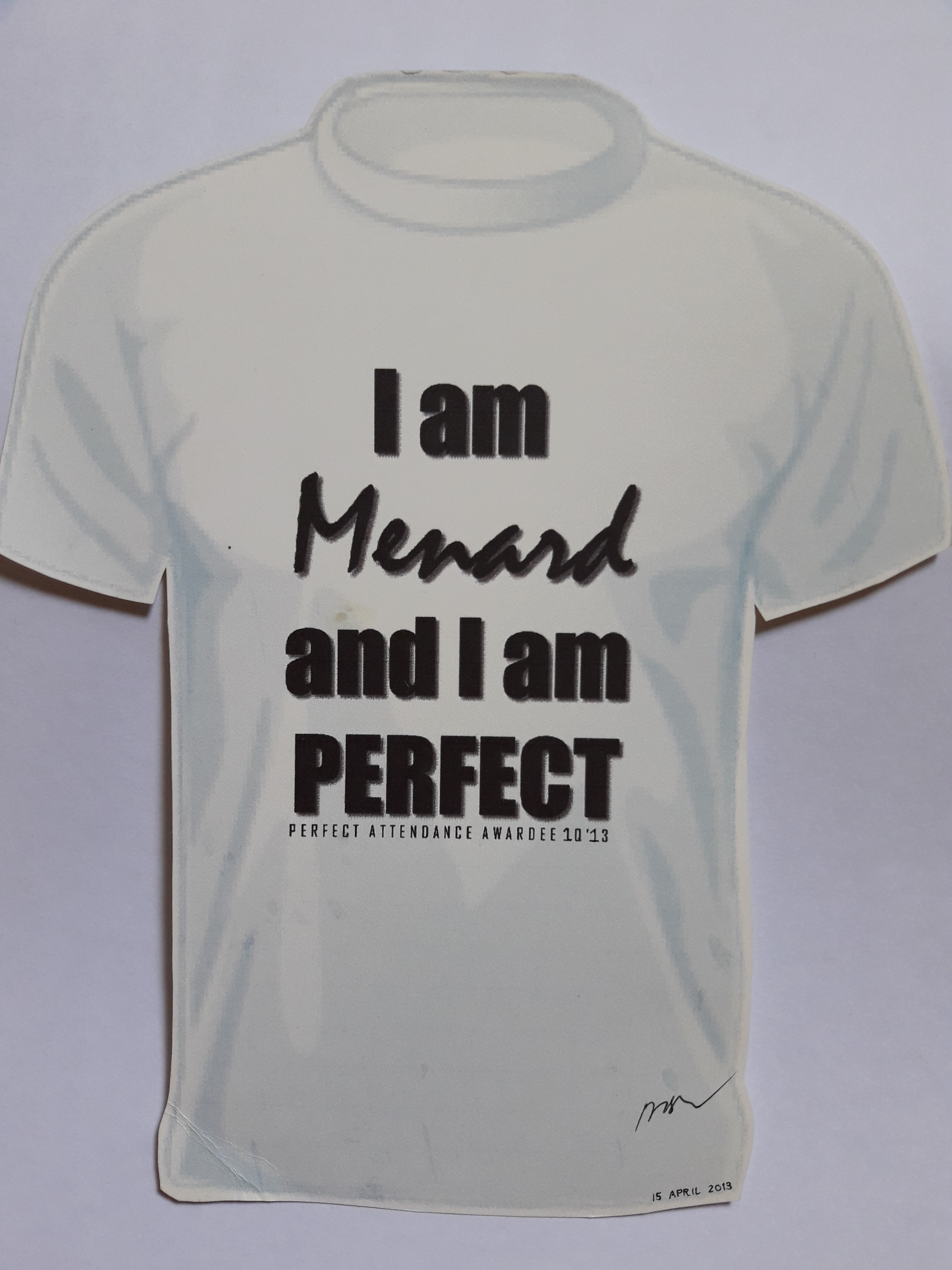 "As regards on attending to important matters, I have to say "no." I just make sure na may nakahanda akong schedule for the day at kumpleto na yung dala ko para mabilis ang proseso at hindi makakonsumo ng oras."
5. How many minutes does it take you to go to work from your place? Do you commute to work? Is it a huge advantage?
"Yes, I commute going to work. It takes me 25 to 35 minutes from our house (Tunasan, Muntinlupa City) going to work (United San Pedro Subdivision, San Pedro, Laguna). Para sa akin, no big advantage ang pagko-commute (especially during national transport strike, haha)."
6. Have you been assigned on a night shift? Does it have an impact on your attendance?
"Yes, I experienced working on a night shift — only for 1 month during my training period at CDD. Back then, I was able to keep a perfect attendance record. Sa makatuwid, naniniwala akong walang impact sa attendance ko ang oras ng pagpasok."
7. What is the most challenging thing you did just to go early or on time in the office?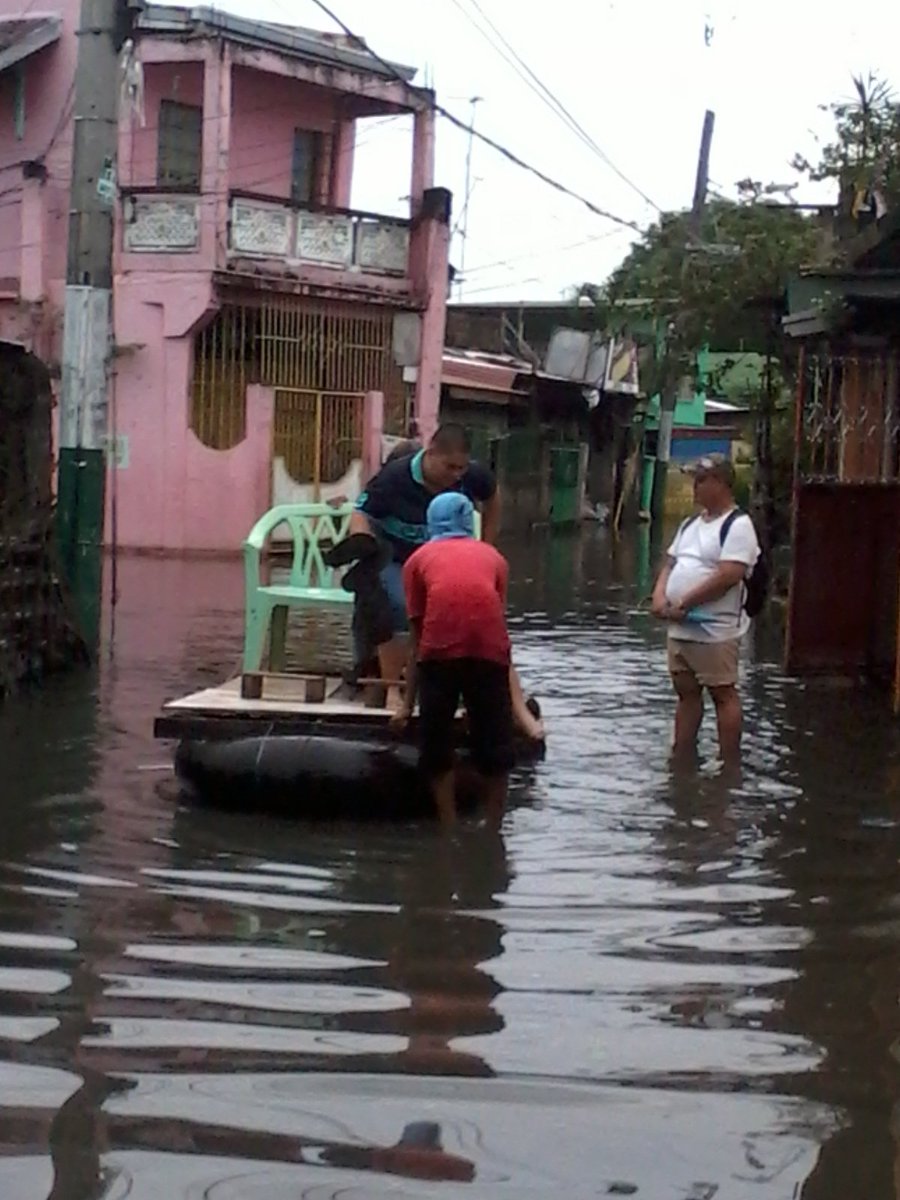 "I had this experience na I had to ride an airbed para lang makapasok sa office. There was a southwest monsoon that time, which may have had caused the torrential rain that lasted for a few days. Bumaha sa lugar namin and there's no other way para makapunta ka ng highway without passing through the flooded area. That was really a nerve-wracking experience dahil hindi mo sigurado kung makakalampas ka sa baha nang hindi nahuhulog o pumuputok yung airbed. May portions pa naman na yung baha ay ilang meters ang lalim (hanggang dibdib, without exaggeration). I braved this challenge because I really wanted to go to the office."
8. Was there an instance that you almost didn't become a Perfect Attendance awardee?
"Yes, meron—not just one but a few instances. As I can recall it, there was a time na eksaktong oras ng work schedule ko ako napag-in sa biometric. (Thanks, hindi counted ang seconds!)"
9. Are there things that seem to hinder you to become the award's recipient?
"I only see some external factors na maaaring makapigil sa akin: traffic jam, transport strike, and anything that's beyond my control."
10. Before you came to FilWeb Asia, have you been maintaining that "identity" for always being on time and never absent?
"Yes. In fact I also had a perfect attendance record during my 3-year stint at DILG office in Camp Crame. Sa schooling, mayroon ding mga year na wala akong absence."
11. Who are the people that inspire you to become excellent in your attendance?
"My father inspired me to continue what he had achieved. I remember seeing his certificates for being punctual for certain periods."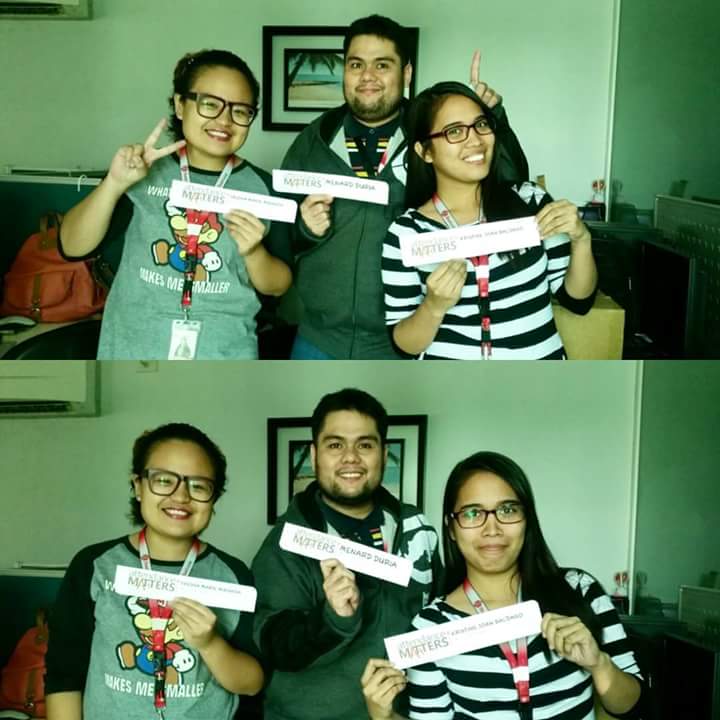 12. What drives you to maintain that feat?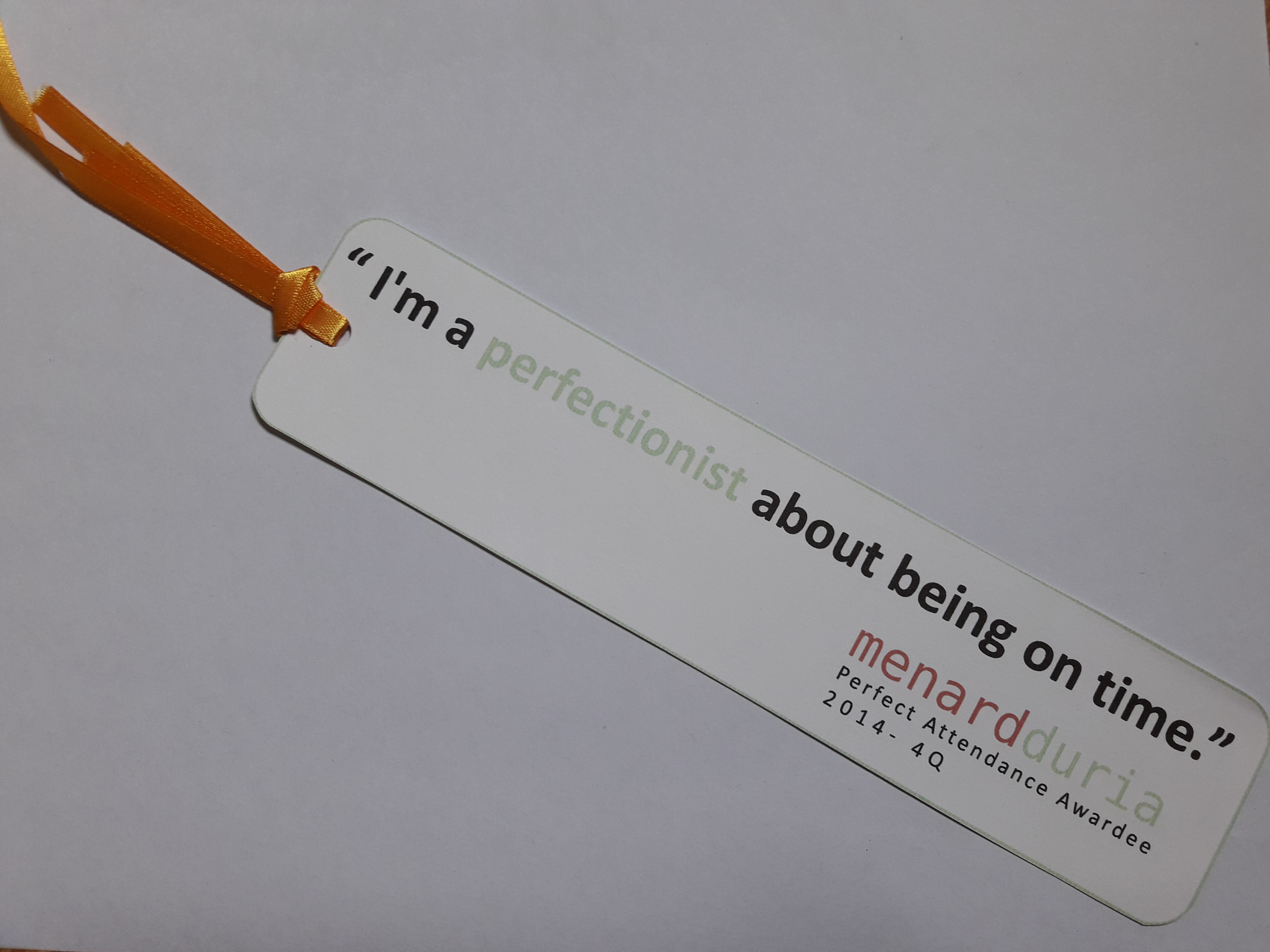 "Actually, wala. I just have this principle na, "kung hindi ka magaling sa ibang bagay, sa attendance man lang ay bumawi ka." Of course, I want this feat to inspire others."
13. Is it the same joy of accomplishment that you feel every time you accept the Perfect Attendance award?
"Yes, of course. Nasasabi ko sa sarili ko na, 'Yes! I did it again!'"
14. Are you seeing yourself no longer a recipient of the award?
"NO — unless every FilWeber achieves at least one perfect attendance award. Meaning, na-inspire silang lahat. (Sorry guys kung malaking challenge 'to. Peace!)"
15. Generally, what is your outlook in life? How has it helped you become the consistent Perfect Attendance awardee that we've known you now?
"Frankly, I am a bit pessimistic. I always look at the darker side of something for me to improve it — not to lose sight of the positive things in life. Beyond fault-finding, pessimism also brings the best in you. Through it, you'll strive to perfect the things that you do. This is what ignites my determination.  
This personal principle really helped me become the person that I am now — as a perfect attendance awardee or as an ordinary employee. I just give each day a reason to call it a special one, at least in my own eyes. ☺"
16. For sure, there are many FilWeb Asia employees aspiring to receive the award, too, because you have inspired them. What pieces of advice can you give to them?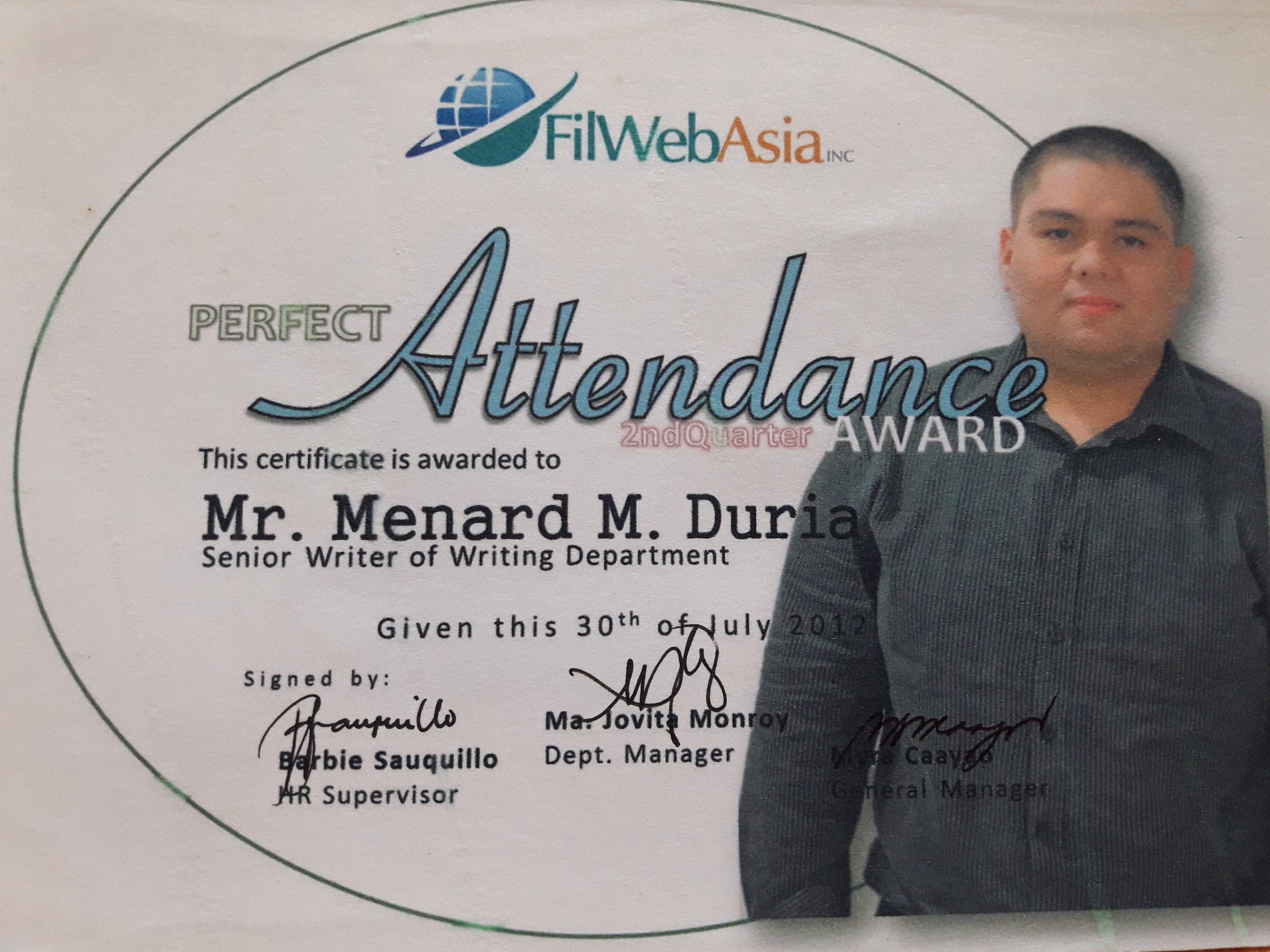 "Hey FilWebers! I hope (and I'm sure) you can achieve this award, too — kahit paunti-unti. Challenge yourself na makabuo ng 1 month nang walang absent, late, at undertime. Isipin nyo'ng walang grace period. Let's use offsets wisely and moderately (I consider them a big benefit, isang malaking tulong just when something goes wrong). By the time na nakaya mo 'to nang 1 month, you'd realize na kaya mong ipagpatuloy hanggang sa maka-isang quarter ka. I think, good time management ýung tanging key para ma-achieve ito. Wake up early. Anticipate the things that could hinder your way. Stay focused. 
"You know what? I get excited whenever a first-time awardee makes it on the list. I hope to see new faces in the coming quarters ☺ [Deal?]"
17. Do you have any message to people who have always been there to support you? Have you got any message also to those who have been inspired by your achievement?
"Oo, I got messages from people — pinapa-confirm kung totoong 5 years akong walang absent, anong sikreto ko, at suggestions ko para sa kanila. Of course, I have hopes na these people will draw inspiration from what I tell them." 
"Thank you Nanay sa paggising sa akin sa mga pagkakataong pumalya ang alarm ng cellphone ko or napasarap sa kaka-snooze (kahit walang pasok minsan, kinakatok ako sa kwarto!). Thanks sa Writing Department for recognizing my effort. Next quarter ulit! (my usual line whenever I get the incentive and share burger/veggie salad with them and others)."
Going to work early or on time can be extra challenging – especially when there are unpredictable situations such as strikes, traffic jams, or sickness that may stop you from being an early bird. But latch on Menard's advice, be inspired with his story and you'll surely experience the sweet reward of punctuality.
Have you too, received a perfect attendance award? Share your experience with us!
Are you an aspiring professional wanting to become part of the FilWeb Asia family? You can be a future perfect attendance awardee just like Menard! Click here to check out opportunities waiting for you to fill in!