Who is your favorite superhero? Is it Superman, Batman, Iron Man, Spiderman, or Thor. Whoever that is, I am sure most of you can now relate to Aquaman after last Tuesday's flooding.
"Baha ka lang, empleyadong Pinoy ako. Di mo ako mapipigilan!"
For us who braved the strong winds, heavy rain, and extreme floods brought by the combined powers of two tropical cyclones Lannie and Maring, it is safe to label ourselves as proud members of "Team Waterproof." Justice League and The Avengers have nothing on us, Filipinos, when it comes to the willpower to show up in the office despite cruel weather conditions.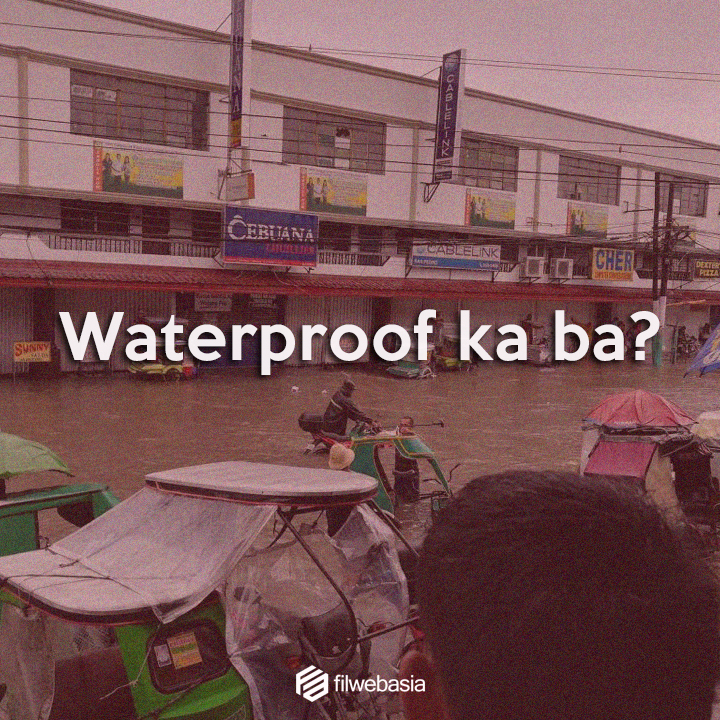 Knowing the possible upshots of the bad weather, local government units of Metro Manila, Central Luzon, and Calabarzon already cancelled classes as early as Monday evening to keep students safe and dry inside their homes. Malacañang also suspended work in government offices and the Philippine Stock Exchange put off trading thereafter. However, as work suspensions did not happen before office hours, dedicated and determined employees were already out on the streets (literally) swimming their way to work.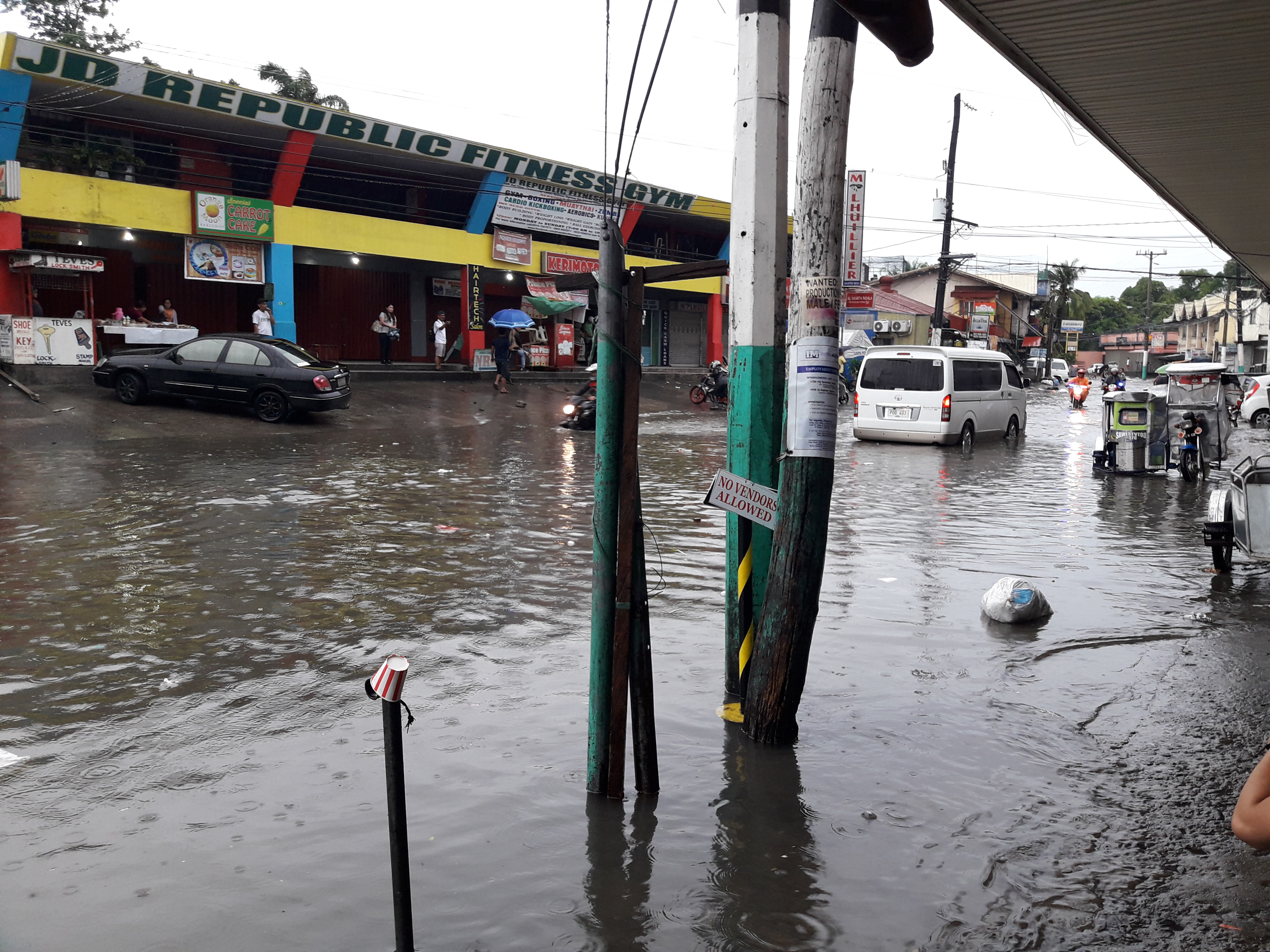 We, Pinoys, are already used to all these nuisances. Iyak tawa nalang talaga, bes. Living in the Philippines has taught us to grow retractable gills that only work against baha. Even if we are naturally squeamish, we will try to conquer the flood.
On our way to our destinations, we swim through the dirty water and see all forms of trash imaginable—plastic bottles, food wrappers, cardboard boxes, broken toys, etc. Worse, we chance upon dirty diapers or poop floating nearby as we soak our feet under the muddy brown or smelly grey-colored water. When this happens, all we could do is wince or fake a smile, then close our mouths and try not to barf. Andyan ka na e. Ginusto mo yan, edi panindigan.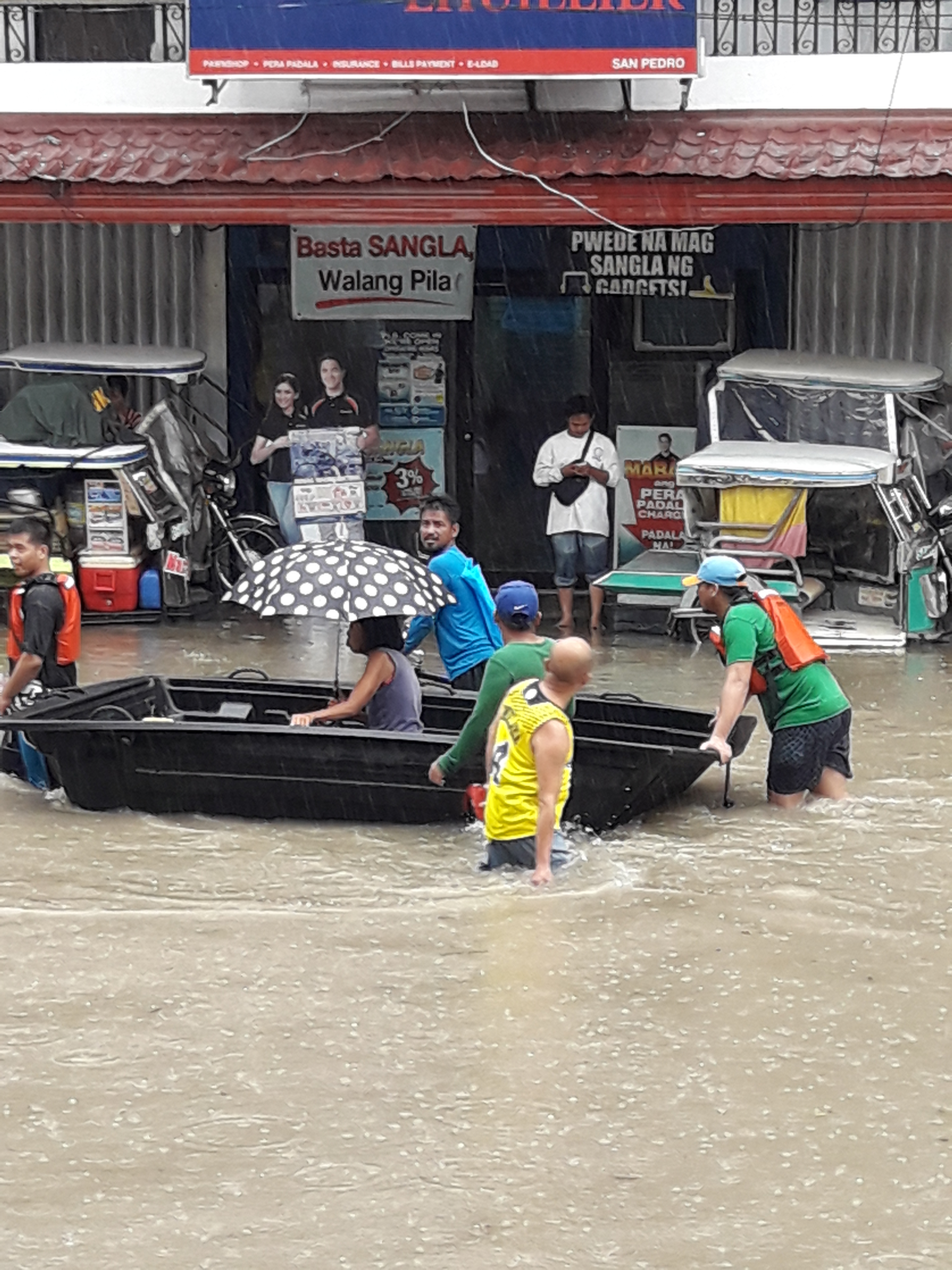 Proud to be #TeamWaterproof
As early as past 6 a.m., roads to FilWeb Asia were already flooded. Most vehicles could no longer pass through the intersection of Maharlika Drive and the National Highway after floods rose up to waist level. This, however, did not stop some FilWebers from reporting to work.
Jhen Cerbo, a CSR from Team Flexi, compared the streets with knee-deep flood to a fishpond or river. She shared that she had to journey across the flooded streets while riding a sunken tricycle, which almost flipped through the intense floodwater.
"Isa sa di ko malilimutang araw yung nangyare kahapon. Muntik pang bumaliktad yung trike na sinasakyan ko dahil sa alon. Mapapamura ka talaga sa takot at mapapatawag ng lahat ng santo pero wala na akong choice, kailangang makarating ako sa office wet or dry para sa mga client na naghihintay," she narrated.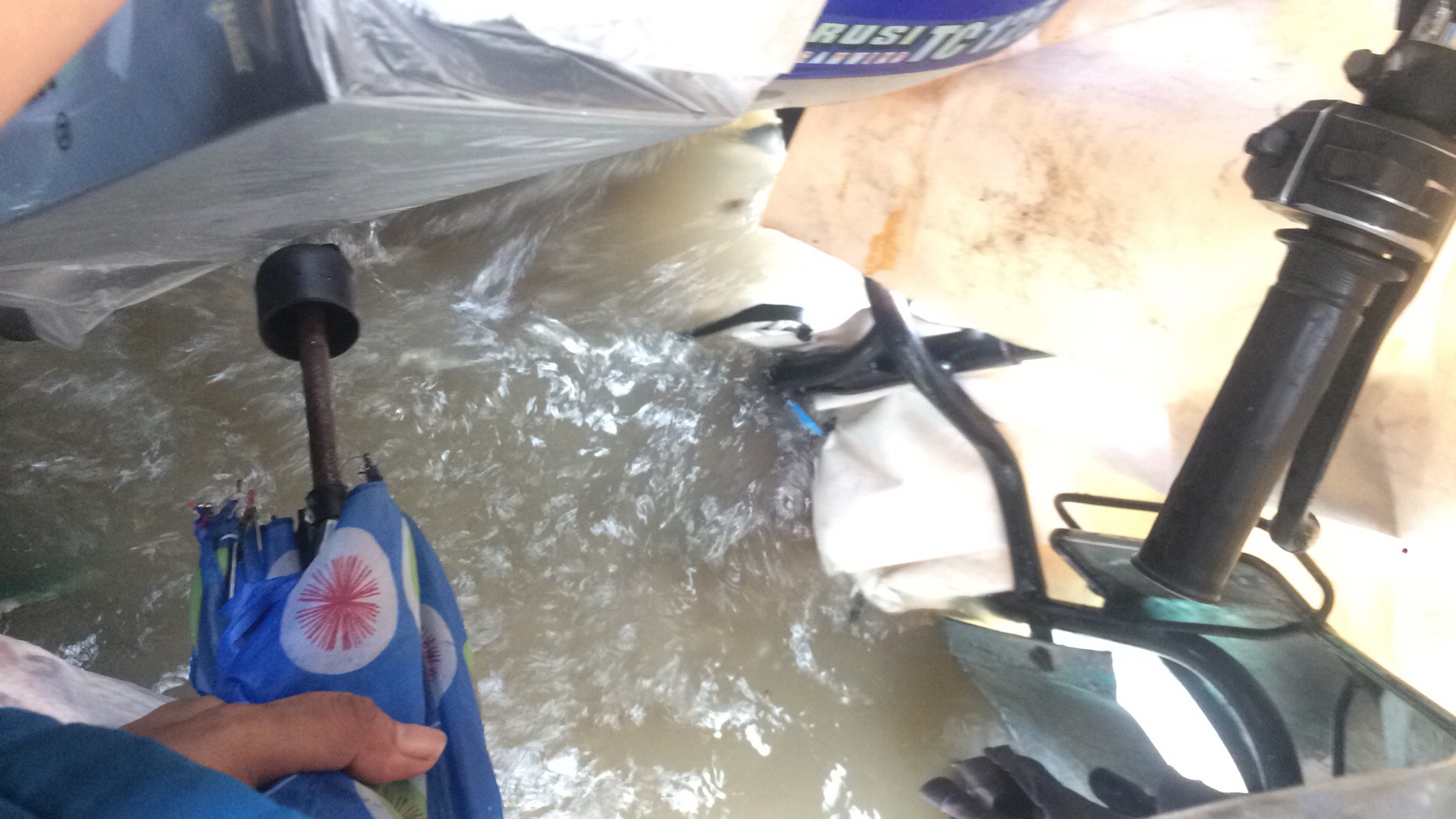 Andrew Gavino (also from Team Flexi) and Christopher Rivera, one of the team leaders of Career Development Department (CDD), both needed to traverse the strong currents on their way to work. FilWeb's MIS Officer Gabriel Salazar, on other hand, compared his experience to Enchanted Kingdom's "Rio Grande" ride.
Tricycles and other light vehicles were no match to the intense deluge, too, so others hitched a ride from buses or just settled to walking the flooded streets since no other options were available.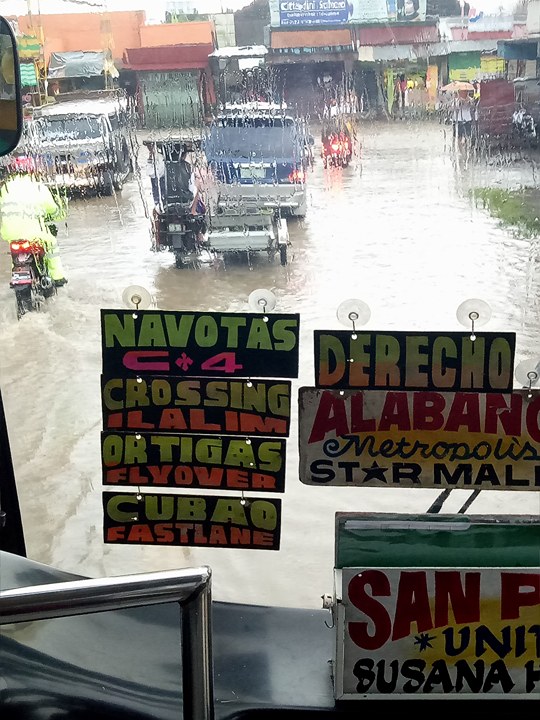 "Super baha sa dadaanan ko papasok. Ayaw na magpasakay ng mga tricycle. Natyempuhan ko na may dumaan na Cher bus habang nagaantay. So nilakasan ko na ang loob ko at pumara. Tinanong ko si manong driver kung pwede makisabay, buti pumayag sya," told Pamela Flores of the Admin Department.
Menard Duria of the Digital Content and Marketing (DCM) team, who is highly acknowledged for his "perfect attendance" record, shared how he defied the odds only to avoid being absent. He also shared some photos on Facebook about his shuttle ride to work. Even inside the company van, he was not spared from the unforgiving flood. Water went inside as he sat on the passenger's seat. All they could manage to do was to keep the vehicle door open so that the water could eventually flow out.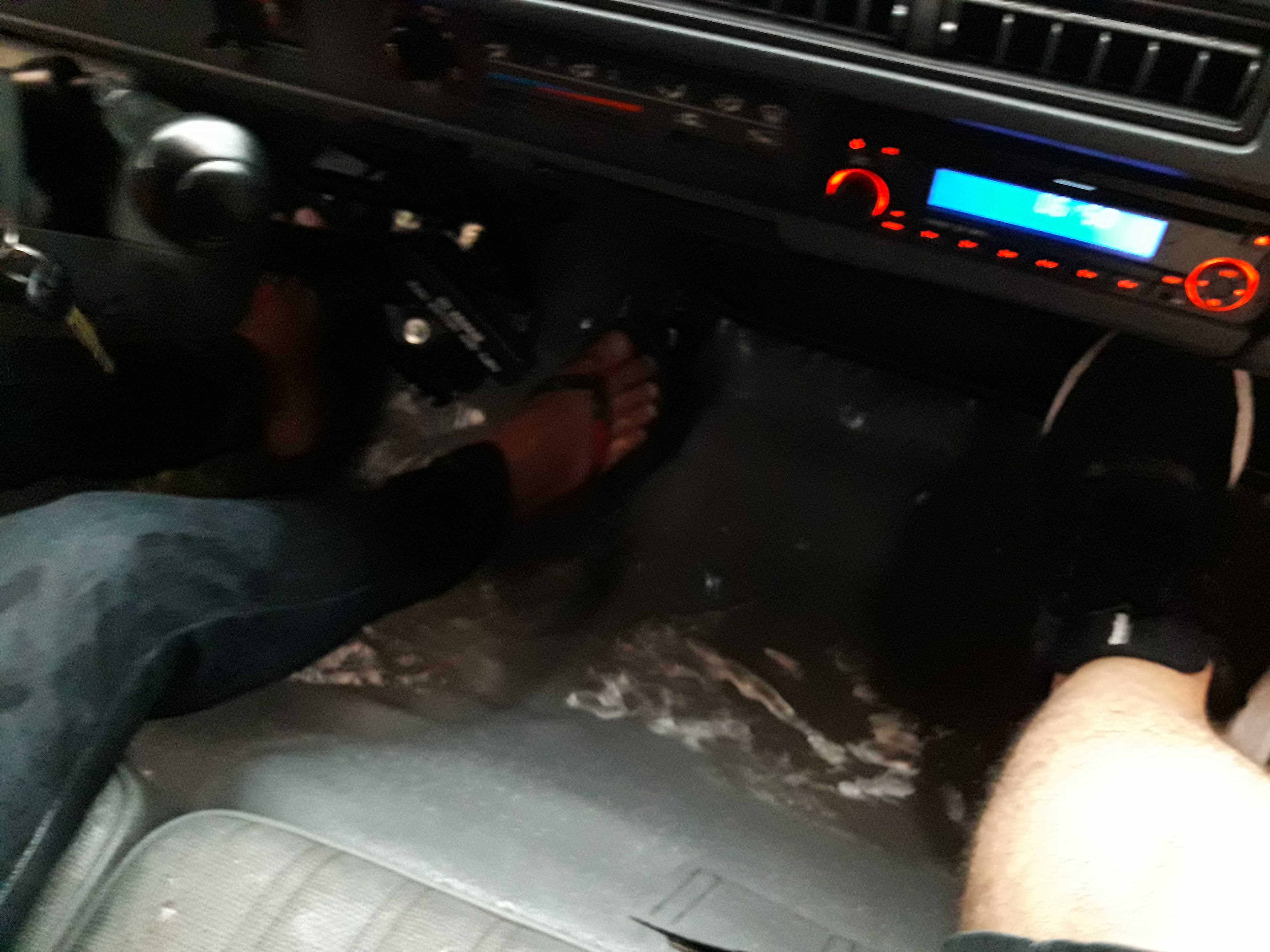 My Boss, My Hero
FilWeb Asia's CEO Larry Mercado was also a godsend to some employees. Coming to the rescue, he fetched stranded employees along Maharlika Drive and brought them to work safely. Wearing only his pambahay, he personally drove his pickup truck and plowed the flooded streets as the vehicle submerged in waist-deep water. #CEOGoals
"After being stranded for almost an hour with my co-workers and some cockroaches from the nearby drainage, Sir Larry came to our rescue. He safely drove us to the office, nearly sacrificing his new pick-up truck," DCM's Trizhia Marie Miranda revealed.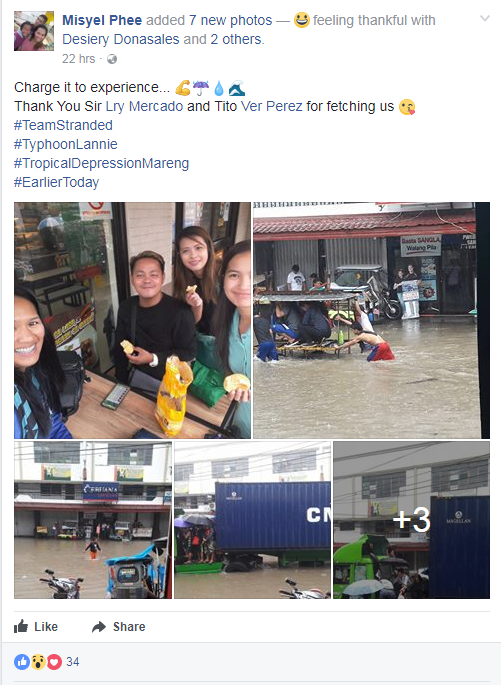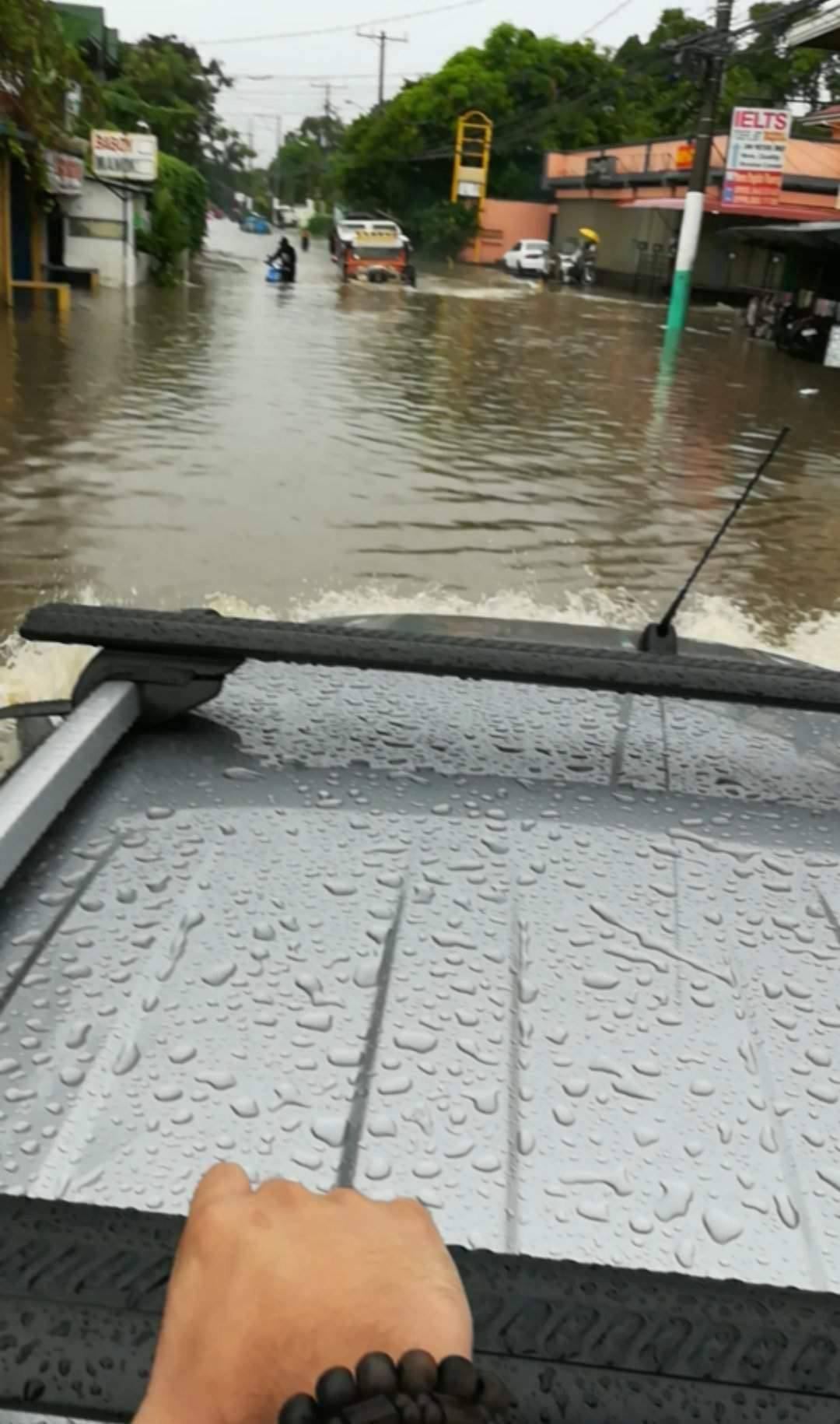 Far from the image of other employers who paid little attention to their staff's well-being, FilWeb Asia's management was not ashamed to show concern and gratitude to their employees. FilWebers can all agree that nothing inspires them more to do better at their job than watching their bosses go out of their way to make them feel secured and supported.
FilWeb's team leaders and managers did not forget to send their members early text blast advising them to keep safe on their way to work, too. Knowing how dangerous the roads were, they allowed them to adjust their schedules or stay at home if the circumstances turned out risky on their part. As a reward to those who managed to show up, however, some leaders awarded them with "Job Well Done" certificates and some even went beyond and treated them for a warm meal.
The CEO also gave out mini chocolate treats to everyone in the office as tokens of appreciation for their effort in conquering the stormy weather. This sweet gesture is just one of the many reasons why FilWeb employees commit to fulfilling their jobs despite the rough and challenging conditions.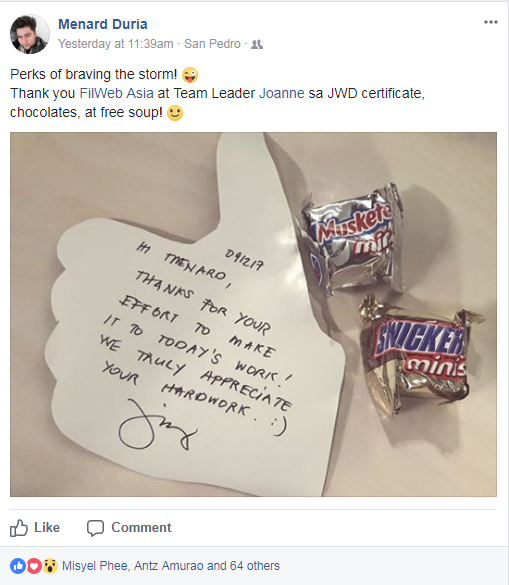 Lessons After Surviving 'Maring' and 'Lannie'
Aside from the funny #TeamWaterproof and #TeamImmortal stories circulating around the web, these experiences also left us with the following life lessons and realizations:
"Ang Basurang Tinapon Mo, Babalik Sa'Yo"
Flooding is one of the negative effects of littering. It was obvious from the massive dump of floating rubbish we have seen almost everywhere. This goes to show that we still have a long way to go to improve our waste disposal measures.
"Lamang Ang May Alam"
Like GMA Network's motto, it pays to be well-informed. Aside from watching the news on TV or listening to the radio, we can use the Internet to check on the latest updates or hear some safety tips. We must also monitor weather reports so we would be aware of road conditions and plan our commutes ahead of time. By keeping ourselves updated, we can decide as well if we are better off safe and dry at home and not stuck somewhere in the flood.
Health and Safety Should Come First
If you know that your route will demand you to swim through flood, do not be too shy to notify your manager or TL of your difficult situation. Take a picture and send it to them as proof. Absences are minor inconveniences compared to any sickness or other dangers that you could possibly acquire if you insist to step out of the house.
Expect the Worst and Be Prepared
If you decide that perfect attendance is still more important (G na G ako, bes. Di pwedeng magka-deduction, madaming bayarin), arm yourself with the right battle gear. If the winds are too strong for an umbrella, wear a waterproof jacket to keep your body as dry as possible. You may also bring extra set of clothes should you arrive at work soaked in rain or floodwater. Clean yourself thoroughly and sanitize when necessary.
Empowerment Equates to Dedication
In the world of business, commitment and trust mean currency. Companies depend on their employees to carry out operations because they also have clients who rest on them to honor the words signed on the contract.
Similarly, when we know we can trust the management to support us in every crisis, it heartens our commitment, team spirit, and love for our job and company. Challenges to fulfilling tasks are easier to overcome when we feel valued and appreciated. The management's compassion towards its people is enough to empower us to deliver beyond expectations. More than the salary, support from our bosses is what drives us to get up and go to work. Bagyo ba? Maliit na bagay.
Attitude and Dedication Are What Sets Us Apart
The good thing about Pinoys is that we always have time for some laughs amidst tragedies. Even when dripping wet, we joke about how we fought off other passengers so that we could catch a ride. We find comic relief about how soaked our clothes and shoes got during our stormy day travel. We tag ourselves as "immortal" and "waterproof," seeing the positive in a situation other people would otherwise dread. You just have to love the Filipino fighting spirit. Indeed, everything is more fun in the Philippines.