With 2022 lurking just around the corner, have you planned out your gala and goals yet? A great way to do this is by plotting them in your limited-edition planner or journal. What are you waiting for? Join the bandwagon—whether collecting 18 stickers for a Starbucks planner or buying the coolest one out there—and start planning your life ahead!
Top 5 Planners to Use Next Year
Time seemed to pause because of the lockdowns and the plans that consequently didn't come to fruition. Nonetheless, this coming 2022, start your year with hope by making plans and setting goals just the same. Get inspired with these standout planners and journals.
1. Tita Witty's The "Keep Going. Wala kang choice­—hindi ka prinsesa ng Genovia." Planner 2022
This year's list will not be complete without Tita Witty's entry. For this year, expect a wittier design and funnier quotations on your planner. Tita Witty's Planner Journal will not just help you manage your schedule; it will also give you good laughs with its featured layout.
2. Friends Planner
Are you a fan of the famous series­—Friends? Add this planner to your cart now! Bring out the Monica in you and start organizing your plans. Whether it's a coffee date or a sleepover, it has a space on this National Bookstore's planner.
3. The Coffee Bean & Tea Leaf Journal
It's a part of the holiday tradition to collect stamps from coffee shops in return for a planner. And while Coffee Bean & Tea Leaf offers cool designs to claim every year, you don't need to wait for Double Stamp weekend to get your choice this year. You can simply purchase their journal selection. They have 3 designs­—Imagination, Happiness, and Gratitude­—all of which perfect for journaling. Their planner doesn't include a calendar, so challenge your creativity by customizing it!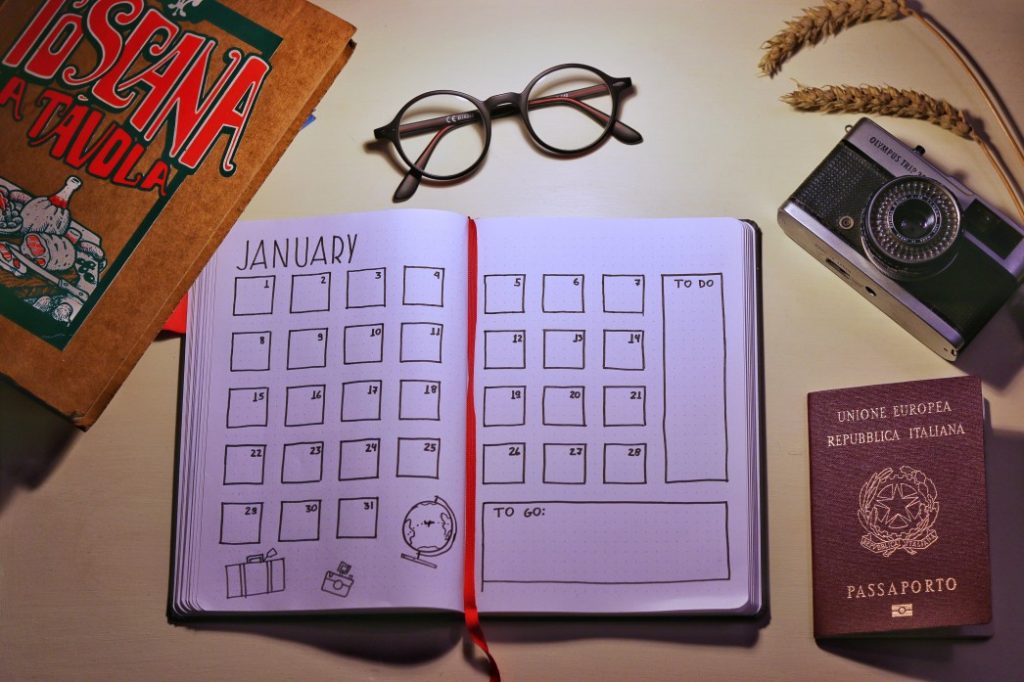 4. Starbucks Planner
Collecting stickers is still part of the craze for Starbucks drinkers. Start saying yes to coffee dates in exchange for their stickers. Starbucks offers black and white 2022 planner. Its minimalist design gives you a chic vibe at talagang ang lakas maka-susyal!
5. Mossery 2022 Planner Journal
Mossery Planners are remarkable because they offer a wide variety of designs. They also collaborate with different artists across the globe to produce their 2022 limited edition planner with a space for your deep thoughts—and available in 74 different covers. So, expect that their planners are expensive—pero worth it, parang siya (oops)!
There are other planner options you can find online; mapa-Shopee man yan o Lazada, may swak na planner para sa'yo! So, make sure to get the best for your personality because nothing's cooler than having to brag to your friends about your 2022 plans written and organized on your new and lit planner—naks! May plan 'yan? And for sure excited ka na rin mag drawing ng mga plano mo sa life.
Life with a Planner
Tamang plano ba? We gotchu, buddy! We have here some tips to help you maximize your planner and to make the most out of 2022. So don't feel guilty of collecting planners and not being able to ink them this year. Instead, check out these tips and get ready to fill your planners and journals with love, life, and everything in between.
1. Use the monthly and weekly view to write events and tasks.
Planners are not meant solely for plans, vacations, and meetings. You can also make the best of the monthly view to jot down events that don't change such as your friends' birthdays, holidays, bill cutoffs, and anniversaries (O, wag mo kalimutan para iwas away).
One more thing: Whether it's a planner for school requirements, work to-dos, or simply household activities, use the space in your weekly view to note the errands you need to run to. You can even write down your workout routine or menu plan!
Most of the planners you can buy today are undated which, to be honest, bodes well in this pandemic-induced uncertainty. Thus, maximize it and custom the design of your calendar. That way, you can organize all your wanderings. Another suggestion is to create a mood tracker, sleeping tracker—lahat na ng tracker you can think of. This way, your planner can be more personal and interactive.
2. Scribble daily reminders.
Of course, we all have our own to-do lists and daily reminders in our planner. This is useful for professionals to keep themselves on schedule despite working remotely. Regardless of your purpose, use the daily view to note your daily reminders or routine. Another thing you can do is to turn your planner into a gratitude journal. List down something you're grateful for, such as getting a bonus or your realization for the day.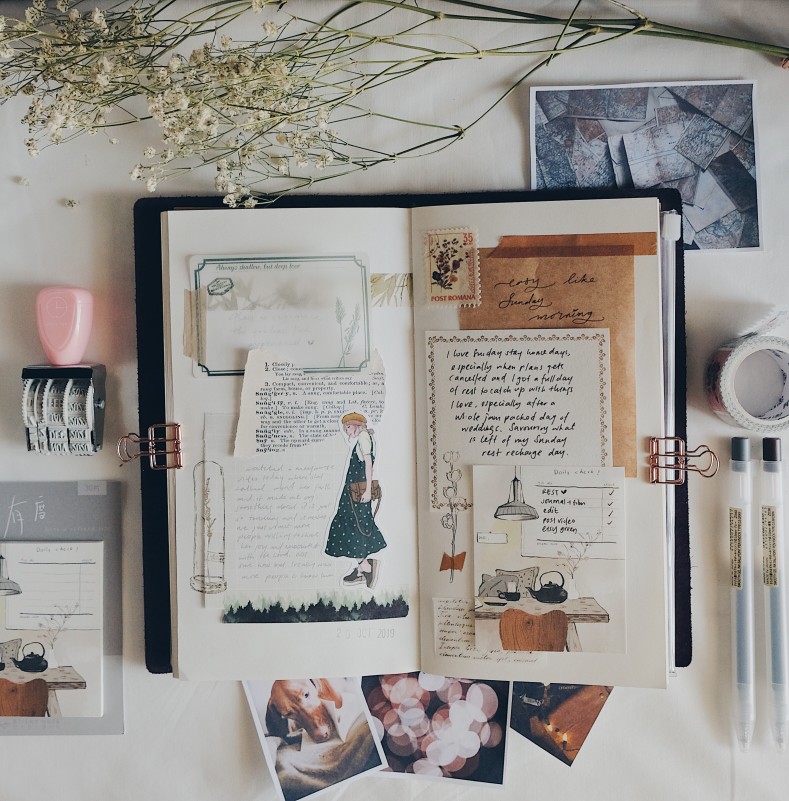 3. Doodle your heart out.
You can draw or show off your calligraphy skills on these pages. Your planner is yours and yours alone. Thus, you can do whatever you want with it. Doodling, drawing, or even writing random thoughts could help you channel out all the stress and other emotions you wish to keep to yourself. Remember, journaling is a good outlet to relieve negative emotions.
4. Save your favorite excerpts the old-fashioned way.
If you have nothing much to write, turn your planner into a gallery of your favorite movie lines or lyric strips (sige na, wag ka nang mahiyang isulat ang favorite line mo sa "All Too Well" ni Taylor Swift); isama mo na rin lahat ng hugot mo sa life. Spice up these musings of yours with doodles or paintbrush art if you like to add mood and color to it.
5. Be creative!
Are you familiar with creative bullet journals? It's the same jot-down-your-tasks journal, but on a whole new level. Grab your colored pens, stickers, and other necessary art materials, and be creative on leveling up your journaling game.
Pour your heart and mind, and don't hesitate to bring life to your planner. Own it! Doing so doesn't just help you cope with everyday hustle and bustle; it can also give you reason to be thankful as you flip through every page.
Bonus Tip: Just write.
Before anything else, set goals for the year. What do you want to achieve in your career or in your life? You can list as many goals as you want; sky's the limit! For example, you can write the top 20 things you want to do before 2022 ends.
Aside from that you can also start journaling with a letter to yourself. Yes, a love letter for you! Do this on the first day of the year; then read it again on the last day of 2022. Trust me—you'll be surprised how life unfolds!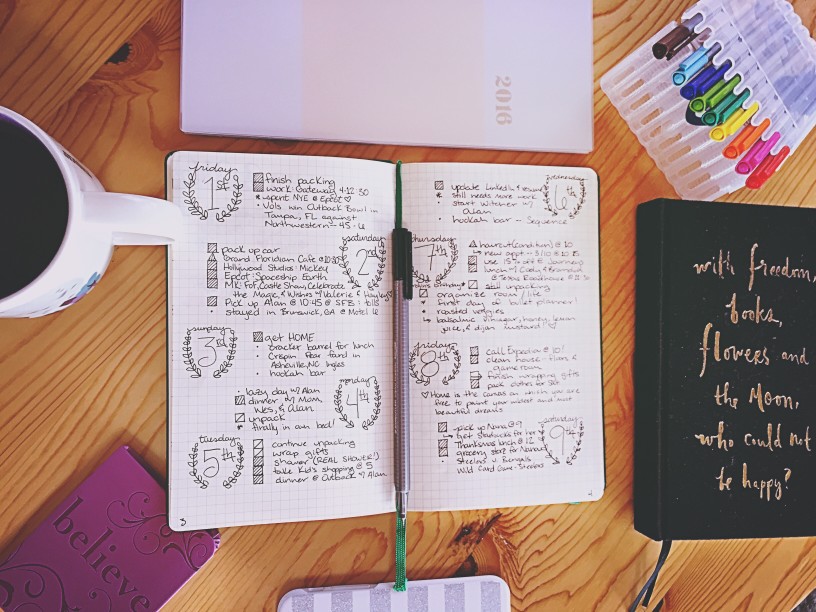 Start Your Year with a Plan
Next year is another year to be filled with memories. Whether it'll be good or not is up in the air. Nevertheless, each day is worth celebrating and some are even great when written. As one said, don't spend time, invest it! Invest time in yourself and your loved ones. One way is to start your year with a plan and purpose at hand.
As you get excited of what's to come, ready yourself to reap your efforts and hard work. With that, FilWeb Asia hopes for you to have a more fruitful and blessed 2022.