Beyond doubt, people love holidays. It's because having some time off is a great opportunity for them to finally have "me time" and relax from the daily grind. Moreover, it's perfect if they plan to spend time with their families and friends or turn their most-awaited vacation plan into reality. However, there are also people who opt to work for additional compensation.
Whether you long for a day off or are the one who takes advantage of holiday pay, it's helpful to mark your calendars with the holidays in the Philippines. Doing so lets you map out your plans for the months ahead.
Not just that, knowing the national holidays also helps businesses prepare for overhead costs and adjust operating hours. Outsourcing companies, in particular, keep abreast of these important dates to avoid any disruption in their services. Yes, you've read it right! They work around the clock, even on holidays, to accommodate clients worldwide.
That being said, it's vital to be familiar with the holidays in the Philippines for 2023. Hence, without further ado, check out these important dates for the coming year and start organizing your calendar.
2023 Declaration of Regular Holidays and Special Non-Working Days
The Philippines shall observe a total of 12 regular holidays and 7 special non-working days for the year 2023. This is in accordance with Proclamation No. 42, signed by President Ferdinand Marcos Jr. As a result, several industries may adjust their operating hours to give way to these holidays.
Nevertheless, as mentioned earlier, most outsourcing companies are committed to serving clients all year round, even during holidays. In fact, they pay regard to these special days to help them arrange their schedules and connect with clients.
So, if you have plans to communicate with them as well, check out this list of regular and special non-working holidays in the Philippines for 2023.
List of 2023 Regular Holidays in the Philippines
New Year's Day – January 1 (Sunday)
Maundy Thursday – April 6 (Thursday)
Good Friday – April 7 (Friday)
Day of Valor– April 9 (Sunday)
Labor Day – May 1 (Monday)
Independence Day – June 12 (Monday)
National Heroes Day – August 28 (Monday)
Bonifacio Day – November 30 (Thursday)
Christmas Day – December 25 (Monday)
Rizal Day – December 30 (Saturday)
Additional Regular Holidays
Eidul Fitr – April 22 (Saturday)
Eidul-Adha – June 28 (Wednesday)
The dates of the observance of Eidul Fitr and Eidul Adha may vary depending on the Islamic calendar.
List of Special Non-Working Days
EDSA People Power Revolution Anniversary – February 25 (Saturday)
Black Saturday – April 8 (Saturday)
Ninoy Aquino Day – August 21 (Monday)
All Saints' Day – November 1 (Wednesday)
All Souls' Day – November 2 (Thursday)
Feast of the Immaculate Conception of Mary – December 8 (Friday)
Last Day of the Year – December 31 (Sunday)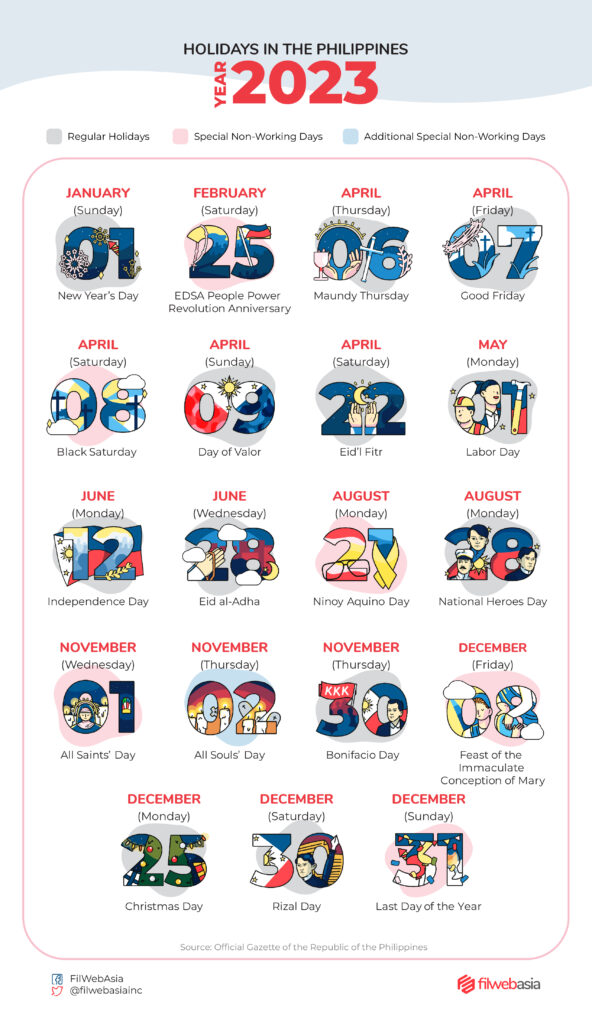 Calendaring holidays in the Philippines comes in handy in organizing your personal goals. Doing so frees you from worrying about missing out on important events. In addition, if you want to take a break, you can take advantage of long weekends and turn your vacation escapades into reality.
Furthermore, if you're a business owner, being familiar with the holidays in the country you're outsourcing to is crucial. This is because it serves as a reference if the third-party vendor can deliver your business requirements 24/7.
How Outsourcing Companies Thrive During the Holidays
As discussed earlier, BPO companies in the Philippines are dedicated to providing top-notch services even during holidays. The difference in time zones won't hinder them from addressing clients' concerns. These make it convenient to hire the best team to carry out your deliverables.
Additionally, the process of outsourcing a dedicated team is easy. Once you have explained the details of your company's needs, your chosen third-party service provider will handle the rest. You can be at ease because they can source the most qualified professionals to provide you with the best business solution without costing you a fortune.
Boost Your Business Plan Initiatives with Our Round-the-Clock Outsourcing Services
The Philippines is one of the top BPO countries despite ranking 5th with the most holidays among Southeast Asian nations. This is due to their cheap labor costs, excellent service, and 24/7 support for their clients. So, if you want to leverage outsourcing, start hiring talented professionals from the Philippines.
Guess what? You don't need to look further. We have the right team to provide you with top-tier solutions. We at FilWeb Asia offer a wide range of BPO, KPO, and ITO services even during holidays. With our expert professionals, you can outdo your competitors. Partner with us today!