Employers, hiring managers, and recruitment experts frequently discuss diversity in the workplace. However, workplace diversity and inclusion aren't just trends. Instead, they've become more about recruiting diverse professionals to provide significant value to the companies' success firms.
More than simply factoring in age, gender, and ethnicity, diversity in the workplace has now become something that business executives embrace. They realize that such arrangement in the workplace provides a number of practical benefits for both the organization and its employees.
What is the definition of workplace diversity? While most people are familiar with the generic definitions of equality and diversity, what do these terms represent in the workplace? In this article, we'll look into the meaning of workforce diversity and its importance in the workplace. We'll also touch upon the competitive advantage it may provide your company now and in the long run.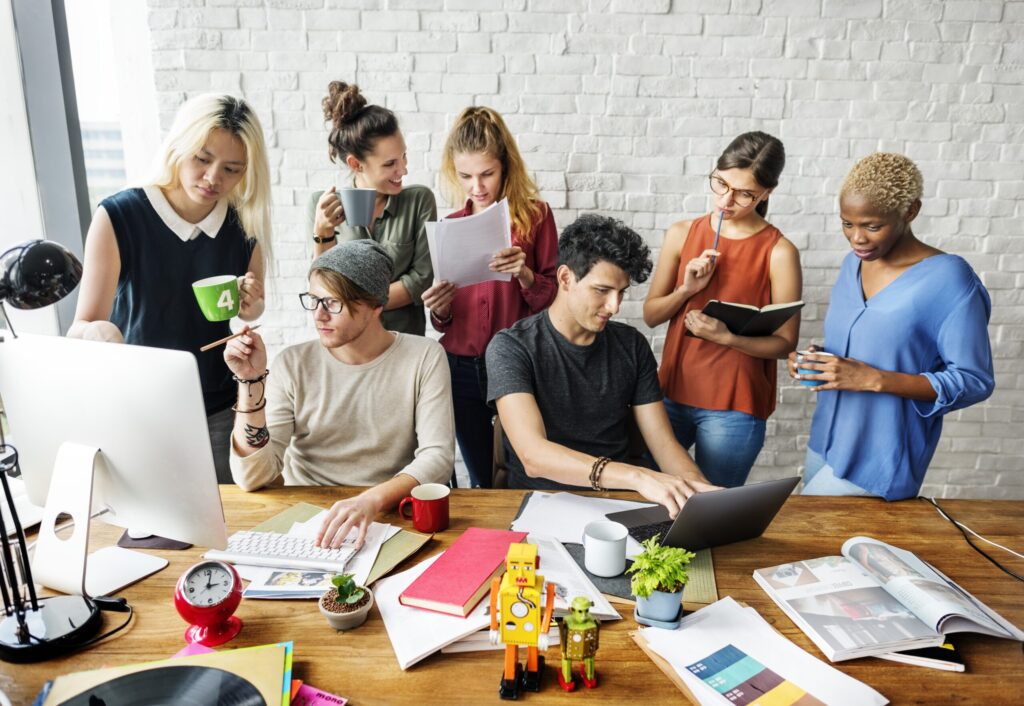 What is Diversity in the Workplace?
To put it simply, diversity in the workplace refers to a company's hiring of a varied group of people. Diversity is frequently misunderstood to refer only to multicultural issues. In reality, however, workplace diversity means respecting and valuing the skills and differences that each staff member brings into the workspace.
In addition, diversity promotes an inclusive environment that provides equal opportunity for all employees. This is regardless of their gender, color, age, ethnicity, sexual orientation, religious beliefs, and educational background.
Diversity in the Workplace: The Statistics
According to a Pew Research Center demographic projection, a near-record 14% of the country's population is foreign-born compared to just 5% in 1965. In addition, "over the next five decades, the majority of US population growth is projected to be linked to new Asian and Hispanic immigration." This transition toward more diverse candidates will have significant implications in the workforce meaning and how businesses deal with workplace diversity.
Different Types of Workplace Diversity
There are absolutely no limits to the number of elements that determine diversity in organizations. Individuals' biological and genetic predispositions, experiences, and education shape who they are as people throughout their lives. These 'nature vs. nurture' interactions are what allow individuals to connect and learn from one another, in turn diversifying and evolving the human race.
While diversity spans the range of endless differences that separate people, there are a few areas that are more often discussed in the recruitment industry. As a result, we'll concentrate on diversity in the workplace examples.
Sexual orientation
Ethnic diversity
Race ethnicity
Age
Education
Skills
Beliefs
Upbringing
Why is diversity important in the workplace?
Diversity allows the hiring process to access a wider spectrum of talent pool, rather than merely talent associated with a diverse and inclusive worldview, ethnicity, or other criteria. It allows businesses to gain insight into the requirements and motivations of the client or customer base, instead than simply a portion of it.
When it comes to the word 'inclusion', people probably think of someone who has been part of a team. Some individuals associate 'being included' with diverse teams and different kinds of employees or even being with family. Although the concept of workplace inclusion is similar, it entails more than simply not being excluded. We may have individual differences but how to communicate diversity in the workplace is crucial.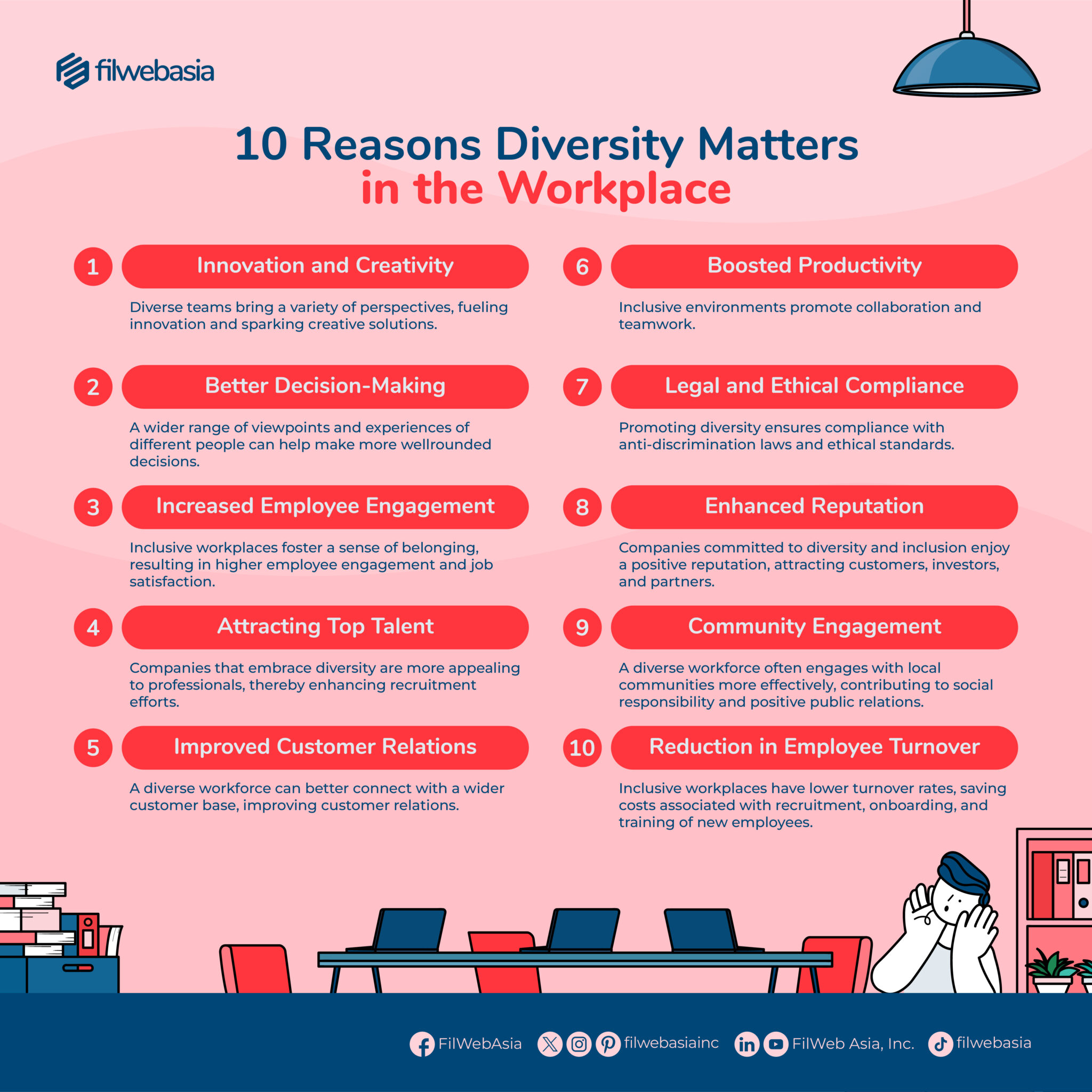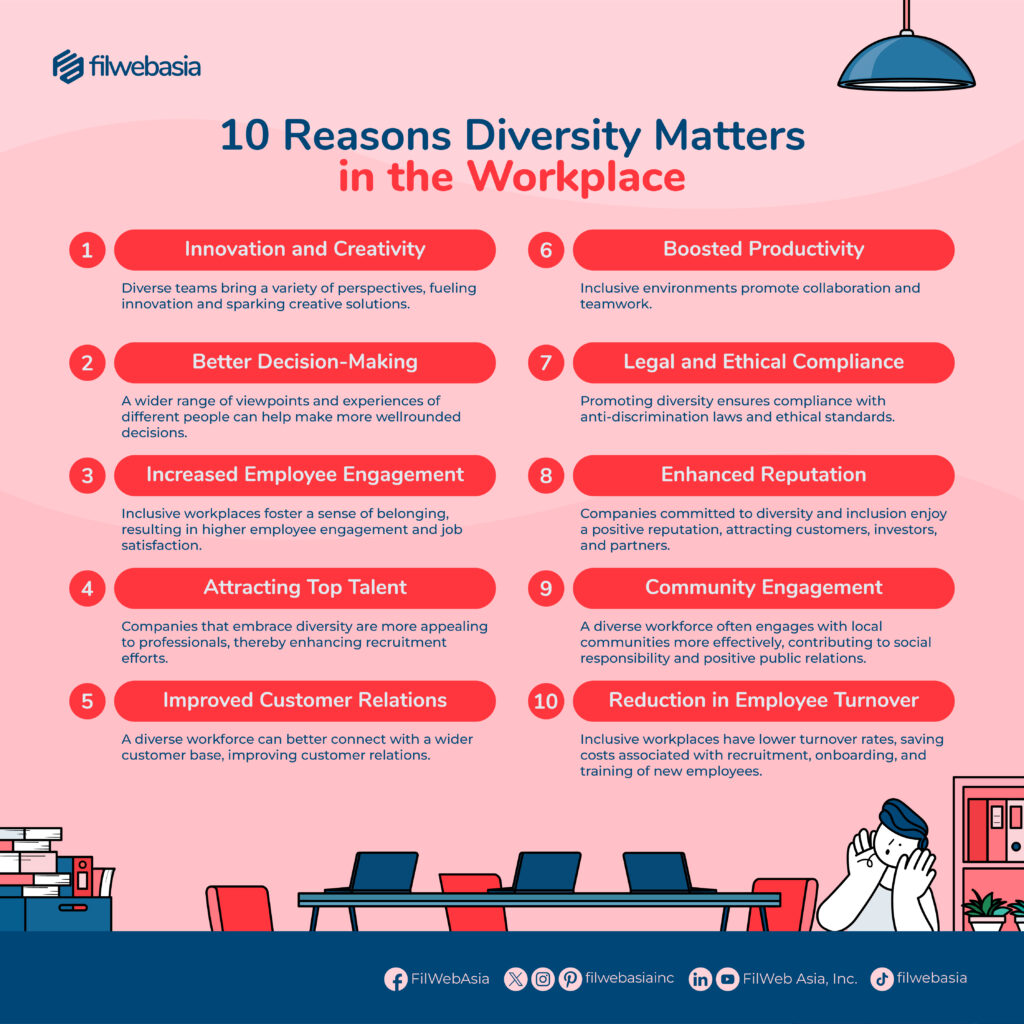 Download Why is Diversity Important in the Workplace infographic here.
What are the benefits of diversity in the workplace?
According to a McKinsey study, companies with the highest levels of racial and ethnic diversity are 35% more likely to have financial returns that are higher than their respective national industry medians.
Furthermore, having a multicultural workforce can give an organization a significant advantage when expanding or improving operations in new markets. Finally, cultural awareness can boost business development.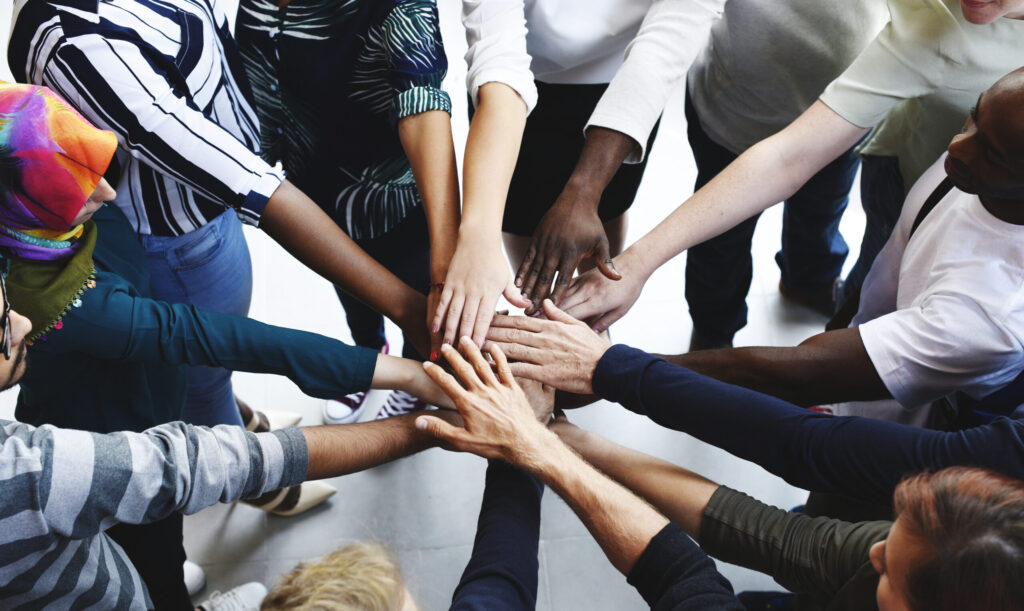 Advantages of Diversity in the Workplace
Companies with diversified workforce gain a number of advantages and benefits for both the business and its team members, such as:
1. It increases productivity.
The presence of diversity in the workplace can boost employee morale, foster a desire to work more effectively, and encourage a variety of experiences and viewpoints. All of these, in turn, help increase productivity.
2. Diversity encourages innovation and problem solving.
People from various cultures and backgrounds tend to work together in more creative ways. Their diversified perspectives increase chances of finding a practical solution to work-related concerns.
3. It fosters respect and diversity in the workplace.
People frequently perceive diverse workplaces as better places to work. Employees prefer to work for an organization that values diversity and treats all employees fairly.
4. A diverse workplace helps reduce employee turnover.
Work stress, job dissatisfaction, and lack of recognition are three factors that contribute to employee departures from an organization. However, a company that values diversity wherein everyone's contributions are appreciated invites higher employee retention.
5. It improves customer service.
Regardless of what industry your company operates in, the more diverse your customer service staff is, the more likely they are to be able to empathize with a variety of customers and thus value their needs.
Disadvantages of Diversity in the Workplace
As you create a more diversified workplace, you also open the doors to potential problems. Two of the most common disadvantages are included below.
1. There might be communication issues.
Communication problems regularly happen in businesses, but they are unavoidable when people of different ages, genders, origins, and ethnicities are asked to work together. Misunderstandings, conflicts, and fights will occur. Nevertheless, by improving workplace communication, it'll be easy to promote cultural diversity.
2. Prejudice might become commonplace.
There may be prejudices about a coworker, and attempting to overcome the stereotype may be unsettling. When these circumstances happen, it's important to deal with them immediately. Doing so ensures that they don't get in the way of your company's objectives.
How to Overcome Challenges of Diversity in the Workplace
Diversity and inclusion are unquestionably essential components of sustainable business growth. Nonetheless, managing an ongoing diversity strategy is challenging; and if any issues associated with this are not properly addressed, everything might end up being a painful process.
Whereas diversity barriers will always exist, here are some recommendations for creating an equitable and inclusive workplace at your company:
Focus on "culture add" instead of "culture fit": Companies should value the diverse backgrounds and experiences of each employee, try to comprehend the values of diversity, and constantly raise employee awareness of the issue.
Take a stand: Management needs to be informed about current events so they can quickly take a stand. Identifying and eliminating any bias—conscious or unconscious—against minority groups should be a top priority.
Make better use of diversity: Create employee development plans with the aim of ensuring sustainability for the company while strategically utilizing each employee's distinct set of skills to expand your business.
Work Culture Idea: How to Increase Workers' Efficiency
There are several strategies to increase productivity in your business. As an employer, you have the option of hiring depending on your company's culture. This strategy will help you avoid personality clashes among your staff.
Encourage lifelong learning and provide skill development opportunities. Create a more effective communication system. Allow diverse talents to focus on their overall health.
How to Manage Diversity in the Workplace
Organizations have long recognized that diversity leads to success. And they know that accepting a wide range of perspectives and cultures, as well as valuing the variety and style of input and efforts from a diverse workforce, will ultimately drive positive results.
Having that said, how do you manage diversity in the workplace to make it a central pillar of the organization's path to success? The only answer to this is, instead of seeing managing diversity in the workplace a necessary part of the modern business world, you should see it as a crucial tool to drive employee engagement, enhance organizational effectiveness, and improve relationships with clients.
By doing this, not only will you successfully manage a diverse workforce; you'll also help drive your business toward success.
Communicating Diversity in the Workplace
Diversity in the workplace brings new ideas and encourages creativity and innovation, but it also presents unique challenges and difficulties. As noted above, one of the frequent problems in multicultural teams is miscommunication. Hence, it is important to first understand your audience's background and points of view in order to communicate with them in a way that they will understand.
But how do you communicate with everyone on your team while also uniting and inspiring them? Here are some pointers to remember when communicating with a wide range of people:
1. Consider everyone's beliefs and accept their cultures.
Raise your personal awareness to better relate to and communicate with everyone on your team. Avoid letting personal beliefs and unconscious bias affect the tone and style of your interactions.
2. Understand and value differences.
Recognize the value of diverse viewpoints on your team and embrace diversity to boost morale and productivity among employees.
3. Pay attention through active listening.
An excellent method to improve cross-cultural communication is through active listening. Be receptive to hearing about how someone's gender, age, race, or sexual orientation may be affecting their experience at work, and make sure that no crucial details are overlooked or misunderstood.
4. Personalize your approach.
Be open to using a variety of communication tools and determine which communication methods and channels are most effective for each team member.
5. Provide training and genuine support.
Clearly communicate company policies and expectations to make sure that all employees are aware of the company's commitment to diversity, equity, and inclusion as well as the advantages of embracing a diverse workplace culture.
6. Use clear language.
In a cross-cultural conversation, there's no need to use big words. Just keep it simple, direct, and understandable without using jargon, acronyms, idioms, and slang sentences.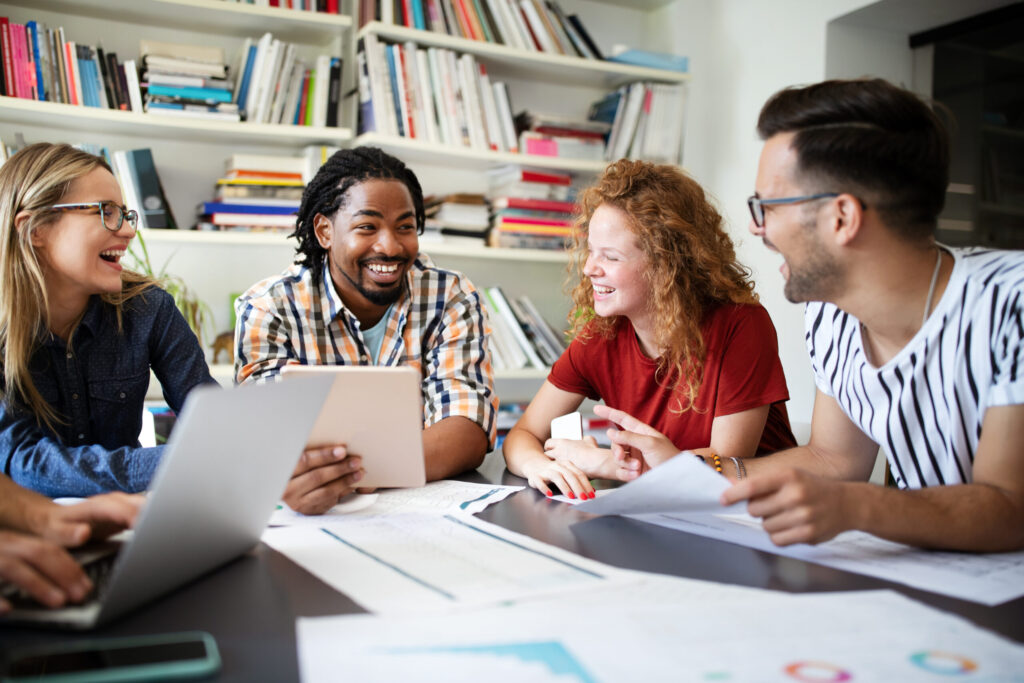 How to Encourage Diversity in the Workplace
Diversity in the workplace does not happen naturally. It requires awareness, education, and changing one's behavior. Additionally, you should also constantly manage and promote your diversity initiatives both internally and externally in order to make your workplace truly inclusive. Promote and sustain a diverse workplace using the strategies and diverse activity ideas below:
1. Diversify hiring criteria and the recruiting process.
Building a diversified company from the ground up takes time. One thing that businesses can do is to employ people from all backgrounds based on their unique perspectives and individual strengths. You may need to modify your hiring process in order to attract a more varied pool of candidates.
Lastly, you may focus on developing a diversity and inclusion program that encourages minority employees to join, remain, thrive, and lead your business.
2. Create more inclusive workplace policies
As your company progresses toward greater diversity, creating new policies or changing existing ones across the board, from hiring to performance reviews and promotions, may be necessary to support workplace diversity.
3. Set up diversity training and mentorship programs
Creating awareness is the first step in overcoming bias, and this can only be done through diversity or unconscious bias training. Also, consider offering mentorship programs along with structured support for career growth to encourage the development of all employees, not just those from different backgrounds.
4. Host cultural events and activities.
Make sure to commemorate special diversity days and events, such as Women's Equality Day, Black History Month, Chinese New Year, and People with Disabilities Day. Learn more about these days, their significance, and your celebration plans to help your organization recognize them. The entire staff may be able to better appreciate and celebrate different points of view by allowing team members to interact in informal social settings.
FilWeb Asia: Espousing a Culture of Empathy
Looking at the big picture, diversity in the workplace makes a difference. Having a diverse workforce gives you a diverse and global perspective along with amazing experience and culture. As a result, you will have a better chance of communicating with and reaching out to a wider range of markets.
Beyond that, companies that successfully manage diversity in the workplace will have a distinct, competitive advantage over rivals in terms of differentiation, innovation, and employer branding in a global talent market.
Consider the benefits that diversity might have on your company. Try to achieve a diverse workforce by seeking out people with diverse perspectives who can contribute innovative ideas to achieve a common goal. Besides business growth, FilWeb Asia offers over a dozen outsourcing and virtual solutions that can surely help you in achieving a diversified workforce.