Starting a business could pose a challenge, given the competition and the immense market share of competitors. Thus, if you want your start-up to drive sales, you need effective marketing strategies. Having a foolproof digital marketing plan can give your business the boost it needs. One of those processes is search engine optimization (SEO).
SEO is the process of improving a website's visibility and search traffic to obtain higher rankings in the SERPs. Moreover, SEO for brand awareness helps businesses reach a wider audience and increase conversions.
If you're still hesitant whether SEO is for you, this article will shed light on the importance of SEO specialists. Plus, we'll talk about the effects of their expertise in SEO for brand awareness.
Search Engine Optimization: Why Does Your Brand Need It?
Companies are investing in their overall marketing efforts to advertise their products or services. They leverage SEO to make their brands searchable on different online platforms. This is because brand promotion is necessary to reach your target customers.
Digital marketers across the globe believe that SEO for brand awareness leads to a robust online presence. In fact, 5.03 billion people use the internet. That's around 63.1% of the world's population; and the figures are expected to increase in the next few years. That being said, it's promising to launch an online campaign in this day and age. You can start by developing the right marketing strategy to produce high-quality content for your website and other social media channels.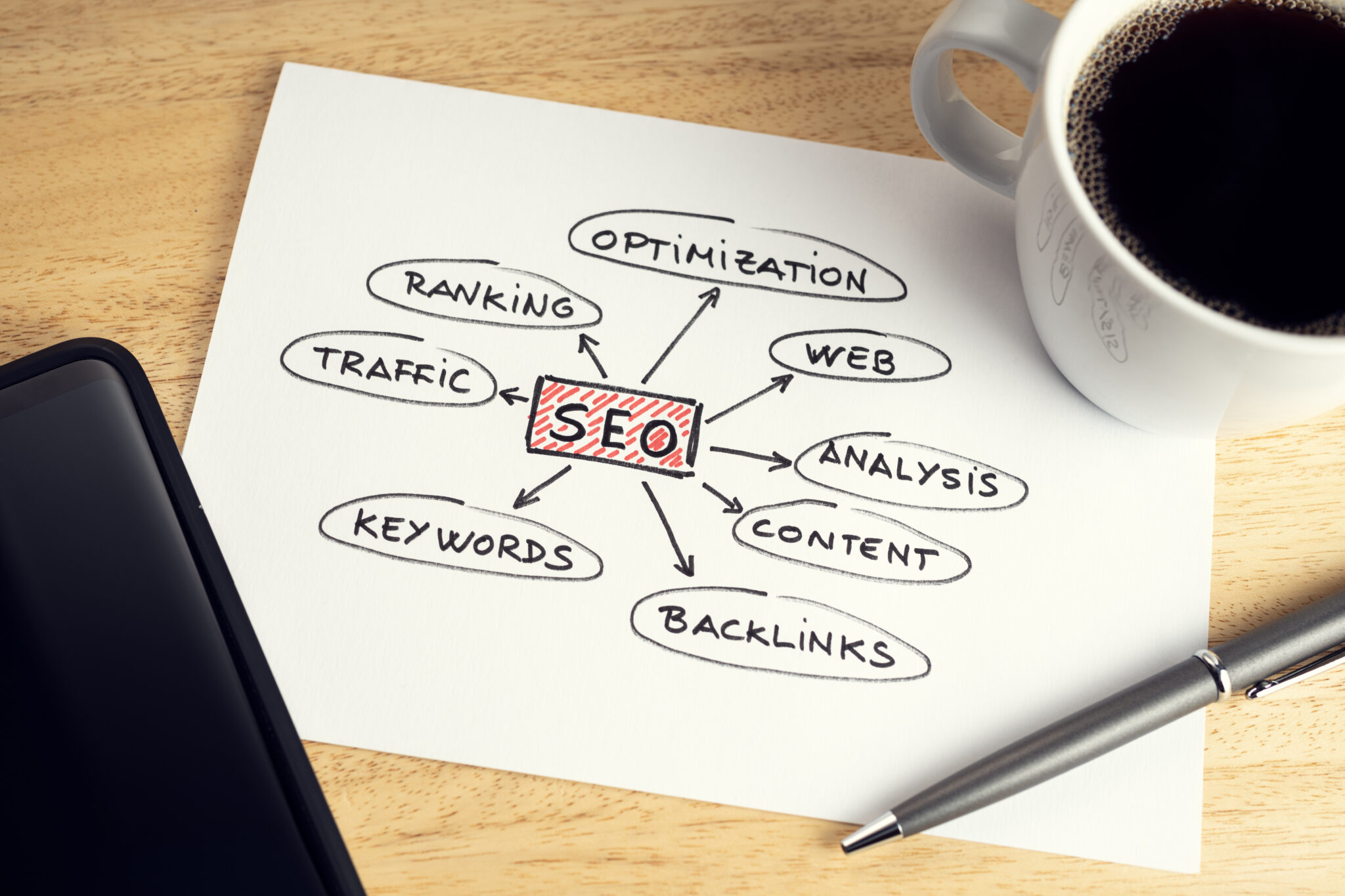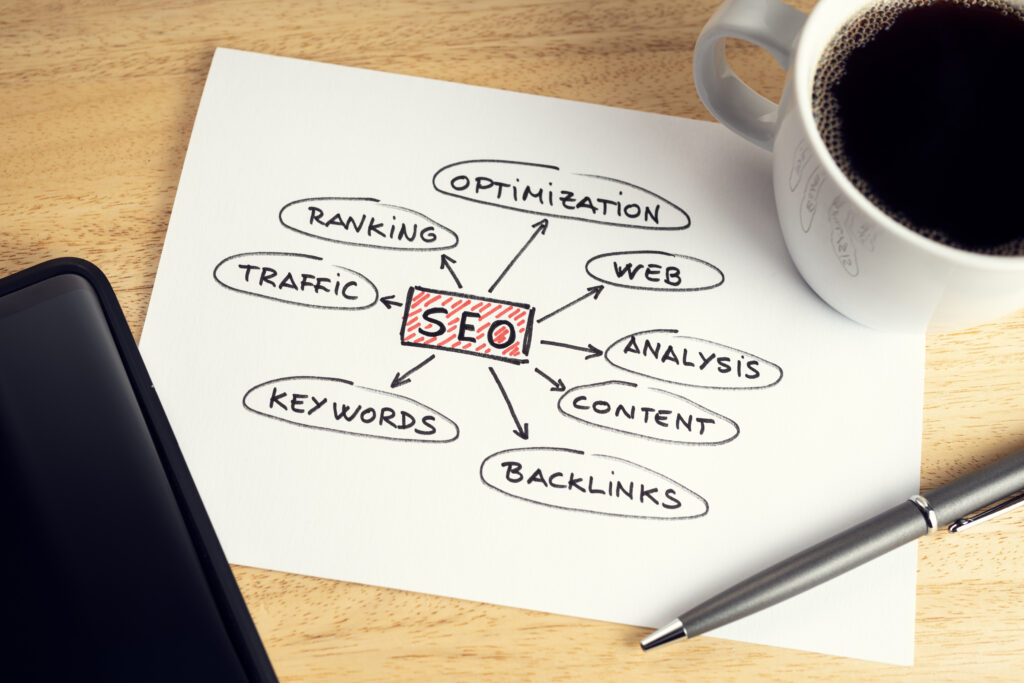 What is the Impact of SEO on Brand Awareness?
As previously stated, SEO's goal is to help company websites rank highly in search engine results. This marketing strategy allows brands to have significant exposure to their target audience. To gain a better insight into this approach, let's discuss its two main strategies: on-page and off-page SEO.
On-Page SEO or On-Site SEO
On-Page SEO is optimizing websites with the goal of getting more organic traffic and increasing search ranking. This can be achieved by making changes to the website's front- and back ends. Here are some methods you can do to improve SEO.
1. Use keywords in meta titles, descriptions, and heading tags.
Strategic keyword placement within your SEO elements helps Google and users identify what your website is all about. Furthermore, this makes your page more searchable online. In line with this, keywords should also be present in your SEO elements, including meta titles, descriptions, and headlines.
2. Optimize content and blog posts.
Optimized websites and content drive more traffic because they're more visible to readers. This will create more opportunities for your products and services to reach the intended audience. Therefore, on-page SEO tasks should include regularly checking whether your content is up to date and continue to drive traffic.
3. Clean your URLs.
Clean and concise URLs are more readable and direct to users. These are also shareable because they clearly convey the purpose of a certain page, thereby leading to more visits.
4. Enhance page loading speed
Pages that load slowly have low trust scores and usually gain fewer clicks. To prevent that, SEO enhances a website's speed and overall features. This provides a better user experience and potential exposure for your brand.
5. Incorporate Google's "author" tag.
Another on-page tactic of SEO for brand awareness is through the Google author tag. This means linking all your articles using the rel="author" tag, which also validates that you're the real author of those articles. The more you link your contents together, the more traffic they generate.
6. Include social sharing in content.
Adding social login options within your content builds your social community online. This is vital in attracting more followers that may possibly share your content. Hence, your brand can extend its reach and be in the spotlight.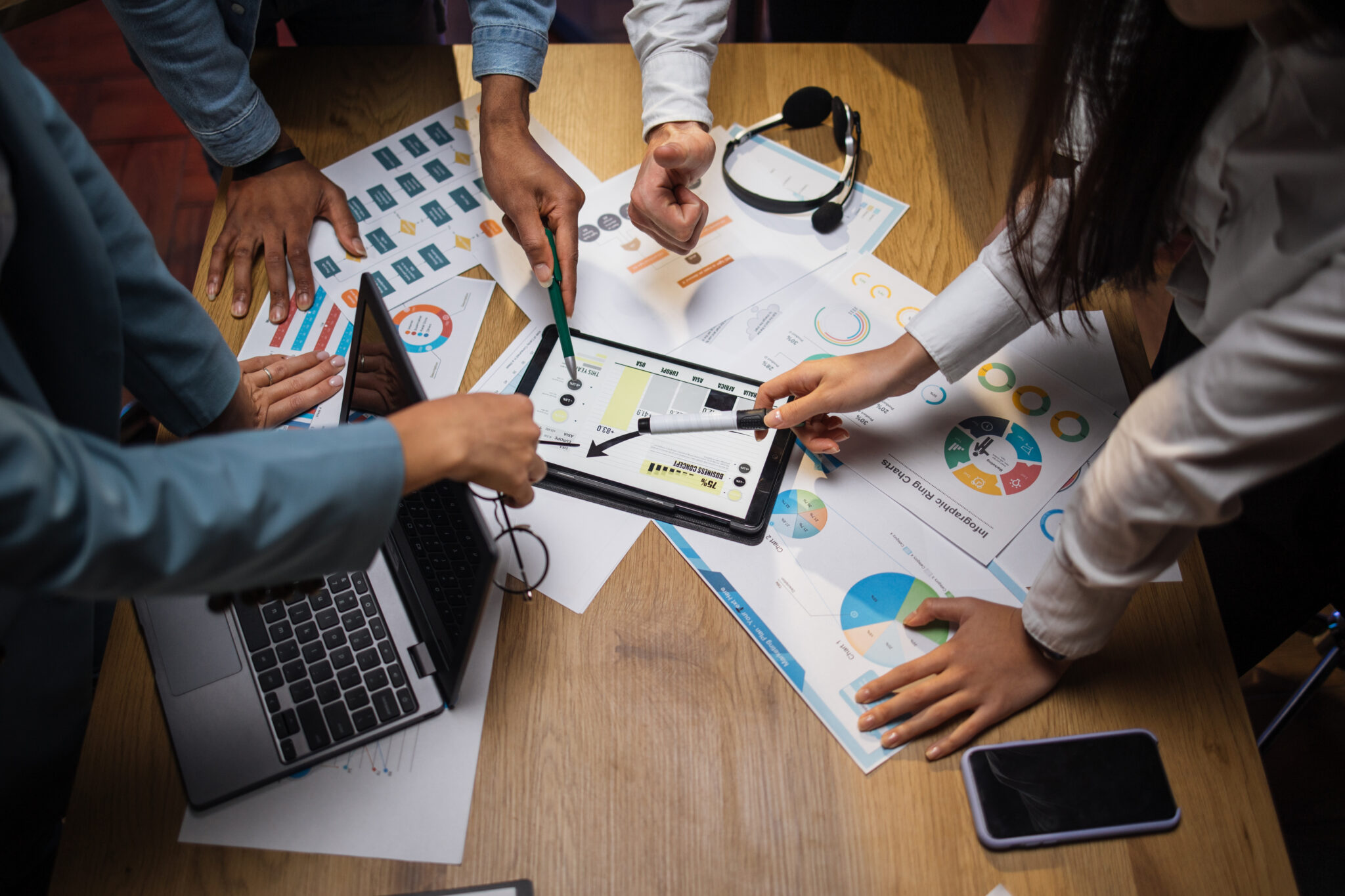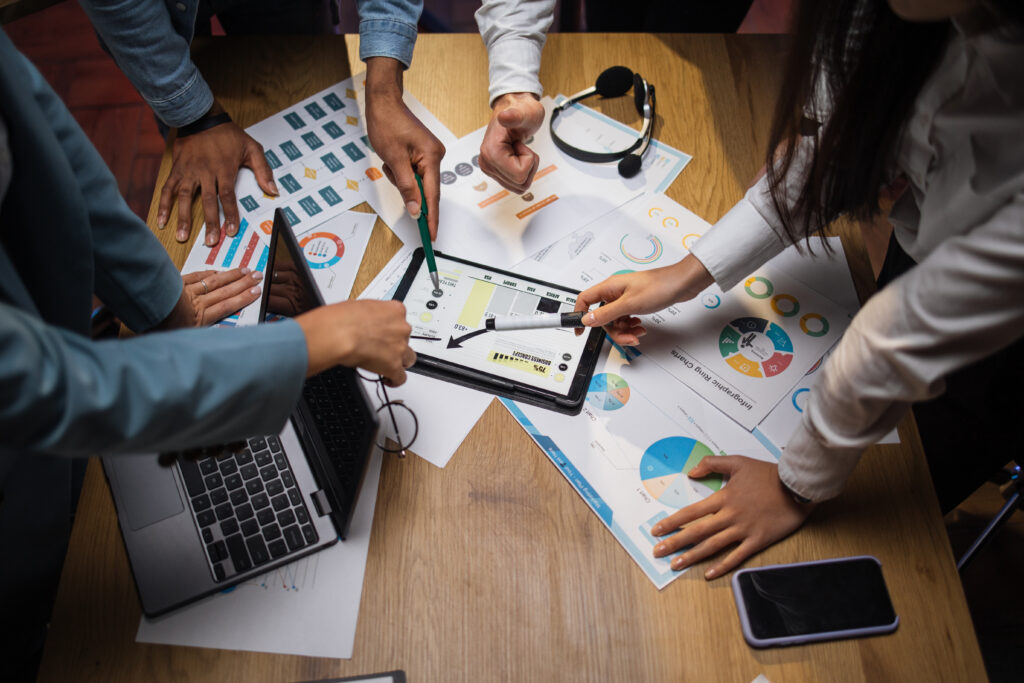 Off-Page or Off-Site SEO
As opposed to on-page optimization, off-site SEO refers to the marketing efforts done outside your website, a strategy that adds considerable credibility to your page. Here are some methods done in line with off-page SEO.
1. Perform natural link building.
Google uses backlinks as one of the determining factors in ranking web pages. That makes it crucial for your site to obtain natural links from trusted sites. In addition, doing so ensures that your page and brand will gain the authority and exposure they need.
2. Include social media marketing strategies.
Since most people nowadays are online, social media is a great way to promote brand awareness. It'll be beneficial to maximize this platform and maintain customer relationships while at the same time gaining new leads.
3. Consider guest blogging.
Posting to authoritative pages creates an opportunity to expand your audience. In particular, this can attract followers and potential customers back to your own website and brand. Therefore, guest blogging can be an effective off-page SEO for brand awareness.
List of Effective SEO Branding Strategies
Having a marketing plan plays a vital role in accomplishing your business goals. That's why utilizing branding strategies can help achieve results. Here are some effective strategies concerning SEO for brand awareness.
1. Identify and manage your branded keywords.
Determining your branded keywords is crucial because it helps your business be searchable on both social media and search engines. These words directly target your customers, making it easier for them to get hold of your products or services.
2. Bid on branded terms.
Aside from managing your keywords organically, you can widen your reach by paying for Google ads. Paying for branded terms will increase your chances of leading your target market to your site.
3. Gauge your brand's search traffic.
Monitor the organic and paid search traffic of your website. This helps you identify whether your marketing efforts are enough and weigh what factors need improvement.
4. Create appealing content.
Another branding strategy is content marketing. This approach lets you promote your brand on different platforms and possibly get more positive online reviews. Therefore, post blogs and other marketing assets that are concise, relevant, and engaging.
5. Write relevant content.
Make sure that your content answers the needs of your target audience. One way to do this is by incorporating buyer personas into your marketing plan. Relevance and reliability are needed to ensure that your posts are worth their time and could lead to conversion.
6. Post content on credible websites.
Authoritative sites have a large number of followers, and some of them allow guest bloggers' content. You can search for such websites and reach out to them to see if they'd be willing to post your content. Contributing to quality websites indirectly gives your brand a spotlight.
7. Optimize SEO elements.
SEO for brand awareness is effective if your site's pages are optimized. Hence, it's a must for your website to have SEO elements that are compelling enough to pass Google's algorithm.
8. Diversify your strategies for SEO branding.
Don't put all your eggs in one basket. Investing in only one strategy for SEO branding might affect your whole online campaign once it fails. This means that it's better to diversify your marketing efforts and monitor each of them.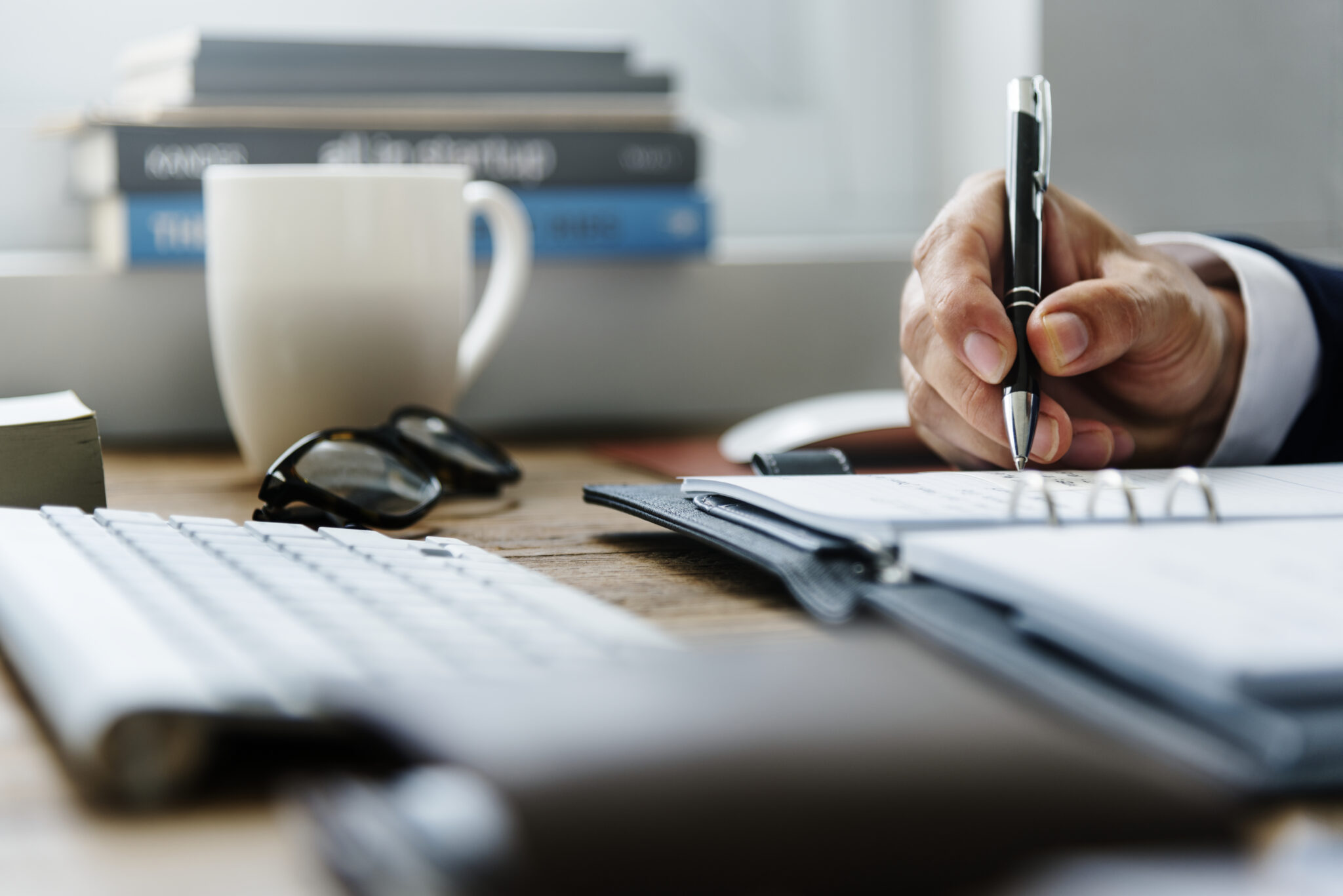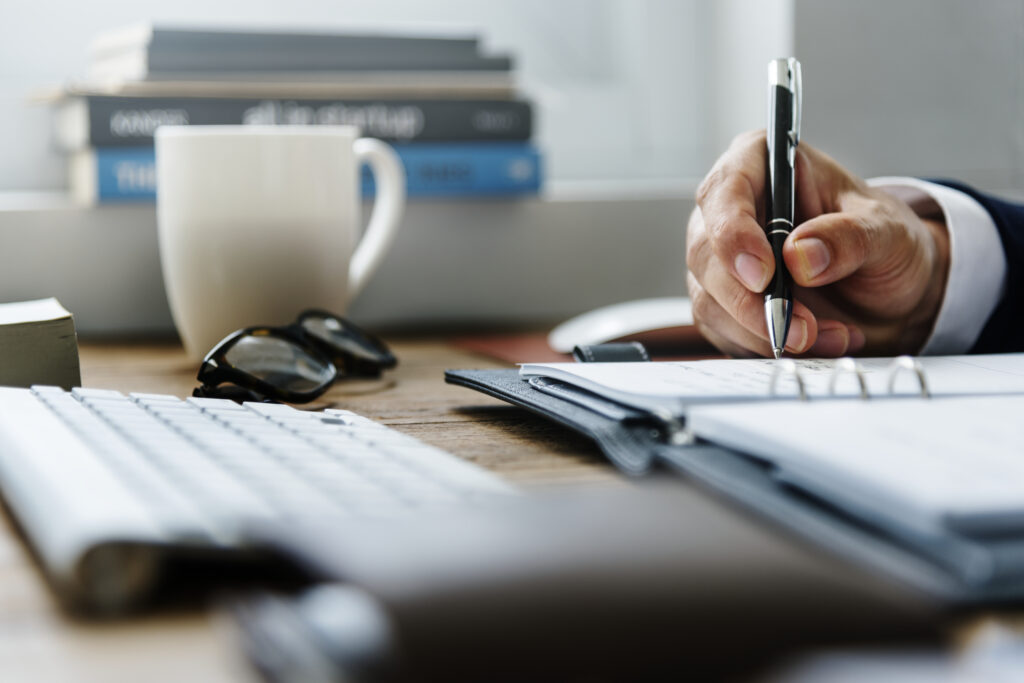 What are the Benefits of Search Engine Optimization?
Cost-Effective
Instead of the traditional way of marketing, you may consider using SEO for brand awareness. It provides you with the right crowd while cutting your overhead and avoiding larger risks. Hence, it's safe to say that its perks outweigh the money you spend by attracting more users.
High Return on Investment (ROI)
As previously stated, SEO for brand awareness is cost-effective, leading to better ROI. Once you've established your online image, customers can easily visit your site and make transactions.
Higher Ranking in Search Engines
SEO's main goal is to help a brand position at the top of the search engine rankings, resulting in financial stability. With Google's recent update, user experience (UX) is vital to beating your competitors on SERP. That's why optimizing your website—including its UX, UI, and relevant content—gives you a higher chance of achieving this.
Stronger Credibility
When your brand is visible and ranks higher in search results, it develops a credible image. Thus, it gives your audience a positive view of your products and services. Having a trustworthy brand can increase conversion rates.
Increased Traffic
Unlike traditional marketing, SEO helps increase your website's traffic. This is done by creating helpful, keyword-optimized content. Doing so boosts your online presence and makes it easy for your target audience to search for you. The more relevant content you have, the better your chances of acquiring organic traffic.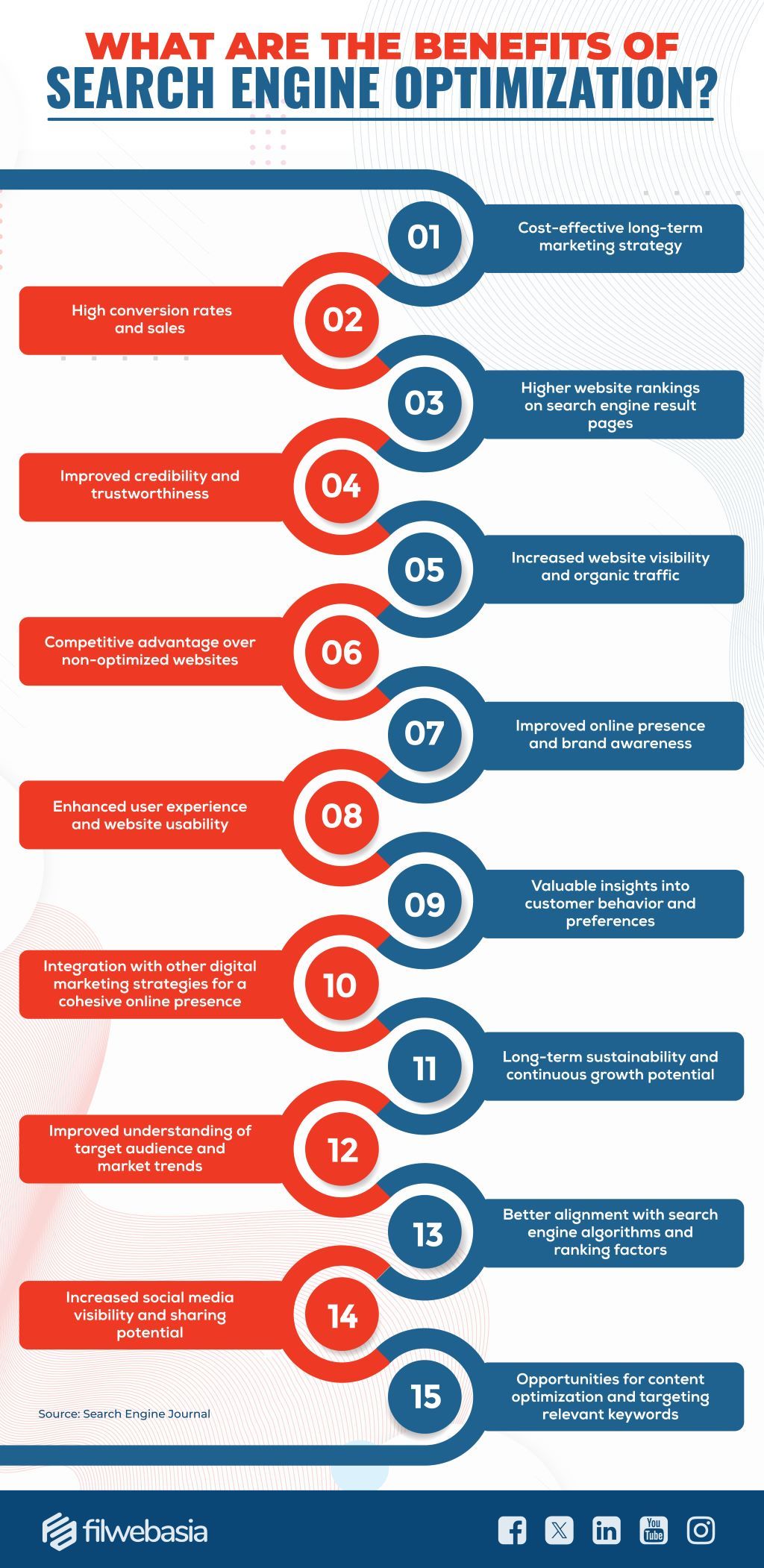 Download the Benefits of Search Engine Optimization infographic here.
SEO Branding Tips
There's no denying that many companies seek the perks that SEO for brand awareness entails. If you want to leverage SEO, check out these 4 surefire SEO branding tips.
1. Increase off-page SEO efforts.
One way to boost your off-page efforts is through link building. It's the process of getting backlinks from other reliable websites. Having a good number of relevant links helps improve brand recognition and increases your chances of getting into the top 10 of the SERP.
2. Take advantage of local SEO.
Reach your target market with local SEO. This marketing approach allows you to penetrate your customer base's locations. With that, your brand becomes more searchable when they type in the keywords you're trying to rank for.
3. Utilize your social media presence.
According to Data Reportal, there are 4.70 billion social media users globally as of July 2022. This is around 59.0% of the whole population! Therefore, with this number, it's best to promote your brand on different social media platforms to reach out to potential leads.
4. Test your website's performance.
Another tip is to check your website's usability and speed. People hate slow-loading pages and unresponsive website features. This may result in your visitors leaving your site.
In a nutshell, for SEO for brand awareness to be effective, you need a strategic approach and consistent effort. Furthermore, having the best team to execute your marketing strategies is critical to achieving your business goals.
Boost Brand Awareness and Conversion with Our SEO Specialists.
Handling your core business functions, while dealing with SEO for brand awareness, could be a handful. Fortunately, you don't have to do it all yourself. Our team of experts is willing to lend you a hand!
Revamp your marketing efforts with our SEO specialists. Our team is trained as experts in the field. That said, you have our word that you'll receive first-rate services from reliable project managers and SEO experts. Furthermore, we ensure you high-quality and cost-effective results to bring your company to the top. What are you waiting for? Connect with us today and let us succeed together!