December 16, 2017 was indeed a fun-filled night to cap off the prosperous year for FilWeb Asia, Inc. The company held its much-anticipated year-end party at The Monochrome Events Place in Nuvali, Sta. Rosa. FilWeb Asia outdid itself with this year's "Heroes and Villains" theme, proving once again its merit at throwing epic parties.
FilWebers were dressed to the nines in their costumes and were superheroes and supervillains for the night. Adding to good food and excitement, special hosts Negi and Pepay of Laffline Comedy Bar filled in the venue with giggles and laughter as they throw jokes and funny banters at each other.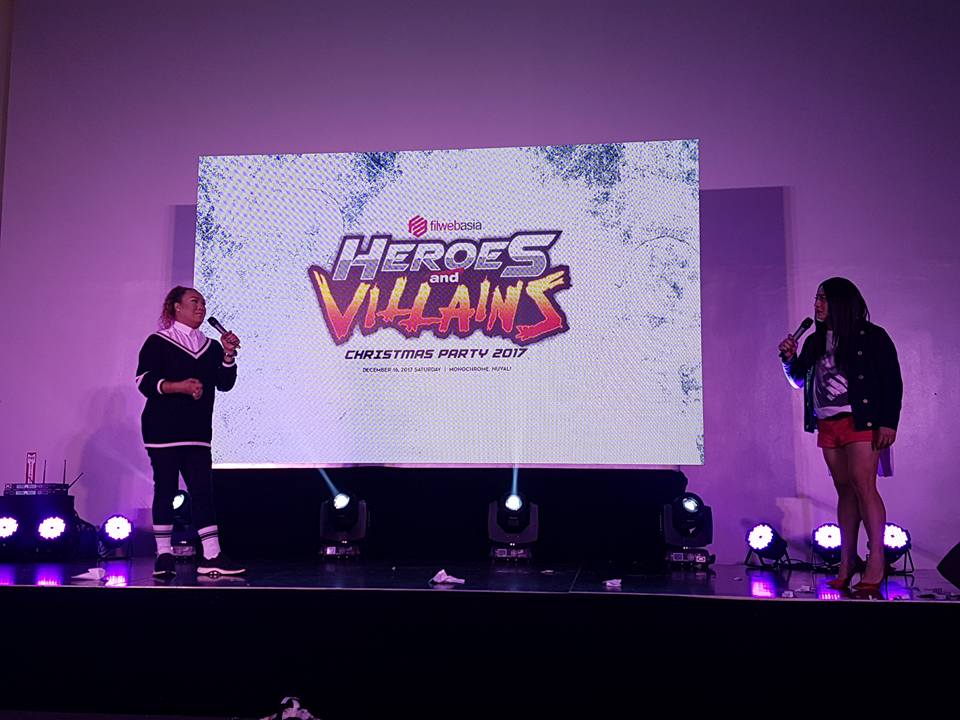 Acoustic Performances
During the dinner, talented FilWebers serenaded everyone with their acoustic renditions of popular songs. Real-life love birds Jonnah dela Cruz and Gabriel Salazar sang the love songs "Oh, Pag-ibig" and "Terrified." FilWeb's very own crooner, John Martin Pareja, with his guitarist Gabriel Lebue, made the ladies swoon with his version of "More Than Words" and a special acoustic mash-up of pop hits.
Also performing during FilWeb Asia's Christmas Party 2017 were Nicca Adornado and Jean Arahan, who were accompanied by their guitarists Gabriel Salazar and Rodel Santos respectively. Lastly, Paulo Mercado, Jaemeelyn Capili, Aldwin Almario, and Karl Combite hyped the crowd with their sultry number singing a mash-up of "Smooth" and "Havana," as well as the hits "Chasing Cars" and "Closer."
FilWebers Turned Cosplayers
Heroes and villains from comics, fiction books, and the silver screen graced centerstage. It was a sight to behold for comic fans! Strutting their elaborate costumes, employees walked the runway and struck their signature poses. Career Development Department's (CDD) Team Diana, Team Topher and Support Team portrayed Marvel Comics' Avengers. The Force was strong with CDD's Team Jhoi, Team Rae, and PR Team as they unleashed their inner Sith and Jedi. Team Outsource Philippines (OP) and Account Management Team (AMT) played DC Comics' Justice League.
Digital Content and Marketing (DCM), Creative, and MIS Department joined forces to form the super mutant team X-Men. Web Development Department (WDD), Data Research Team (DRT), and Creative/Digital Marketing made the audience shiver their timbers with their depiction of the Pirates of the Caribbean. Team Flexi dressed in grand ensemble brought Middle Earth to The Monochrome with their portrayal of The Lord of the Rings.
Heroes and Villains Dance the Hits
The main attraction of the event was the inter-department dance competition. To the tune of popular hits of the 80's to the present, FilWebers displayed their powerful moves and choreography on the dance floor.
Each team gave the judges a hard time determining the winner. In choosing the top groups, the judges had to score and check on the participants' costume and props, execution, teamwork, musicality, and audience impact. Sitting with FilWeb Asia's CEO Mr. Larry Mercado, the panel of judges composed of Mestiza Restaurant's owner Carlos Maravilla, Architect Rick Martinez, and CIIT College of Arts and Technology President Mr. Sherwin O. Based from all the cheers and applause from their audience, each performance was entertaining and spectacular.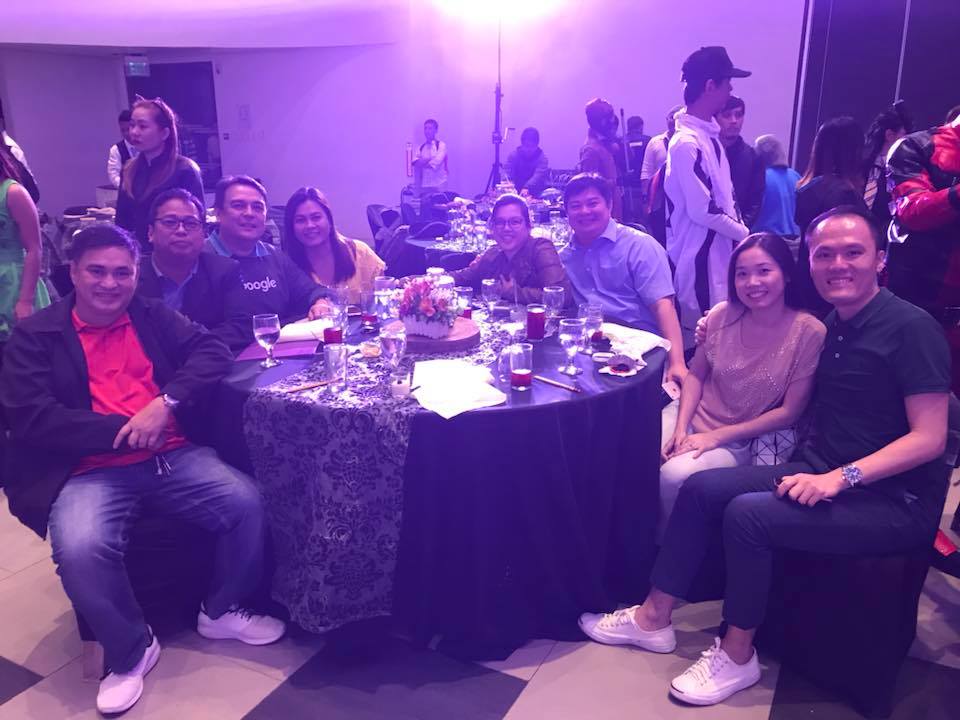 FilWeb Asia Christmas Party 2017 Grand Raffle Draw
Aside from the dance contest, FilWebers have been looking forward to the yearly raffle draw. Thousand pesos-worth of gift certificates, household appliances and gadgets were at stake. The hosts could not help but express their amazement at the company's extravagance in showering their employees with huge prizes.
Winners of major prizes from the Red Tag Raffle for new FilWeb employees were Kenneth Miranda, Joshrel Sanga, and Nicole Romo. Jessica Ebriega of the Career Development Department went home with the grand prize, the Giveaway Bundle, which consists of induction cooker, toaster, box fan, microwave, and kettle.
Rodel Santos, Junjen Acuemo, Pamela Flores, Arvin Cervantes, Albert Alon-alon, and Edmon Valleda were the lucky tenured employees who took home major raffle prizes from the Gold Tag Raffle. Digital Content and Marketing's Joanne Gonzales bagged the grandest raffle prize of all, the Yuletide Bundle, which consists of a 45" television, refrigerator, and DVD player.
Announcement of Winners and Special Awards
Team Flexi won the "Best in Costume" (Team Category) along with a P5,000 cash prize. Without a doubt, their cinematic catwalk routine won the hearts of the audience and the judges.
John Martin Pareja, won Best in Costume (Individual Category). His portrayal of Captain Jack Sparrow was perfect in every sense. From the costume to the captain's weird quirks and antics, he was a crowd favorite and was consistently in character all throughout the night.
Judges also gave special awards for the best male and female dancers of the night. Best Male Dancer award went to Matt Joshua Albano from Team Flexi, while Rosalinda Aribal from the Account Management Team won the Best Female Dancer. The crowd went wild when the hosts announced that the prize pot for the dance contest also got bigger. The 2nd and 1st runners up got an additional P2,500, while the grand winner took home an additional P5,000.
When it was time to announce the winners of the dance contest, everyone was crossing their fingers and wishing good luck for their bets. Their action-packed and "kalas-balakang" performance won the Uncanny X-Men 2nd runner-up. They received a black trophy and total of P7,500 in cash. Receiving P9,500 and a silver trophy, The Lord of the Rings won 1st runner up with their hair-raising, spooky yet sexy dance number. Six teams competed but only one rose to the top and became the champion in the end. After conquering the High Seas, The Pirates of the Caribbean prevailed and took home a golden trophy and the grand prize of P15,000. Non-winners did not go home empty-handed as each also went home with P2,000 as consolation prizes.
"Maagang Pamasko" for a Fruitful and Prosperous Year
The cherry on top of the amazing night was the surprise announcement of FilWeb's VP for Finance Mrs. Alma Mercado, which drew loud cheers from the crowd. Commending the entire company for an exemplary performance for the whole year, Ma'am Alma was like Mrs. Santa Claus bringing a sack of gifts to excited kids. She brought news that made every FilWeber shout and jump for joy. With news of a generous Christmas bonus awaiting everyone, it truly felt like Christmas came early for all FilWeb employees.
Christmas Is All About Giving and Family
Once more, FilWeb Asia's Christmas Party 2017 was a display of the company's undeniable team spirit. The party's theme was a challenging one, but each team managed to pull off even the most complicated characters. With each clap and cheer for support, everyone felt the love and camaraderie they receive from each other. It is easy to say that FilWeb Asia has become more than just an organization to its employees, but also a warm and welcoming family that wishes everyone good tidings for the upcoming year.