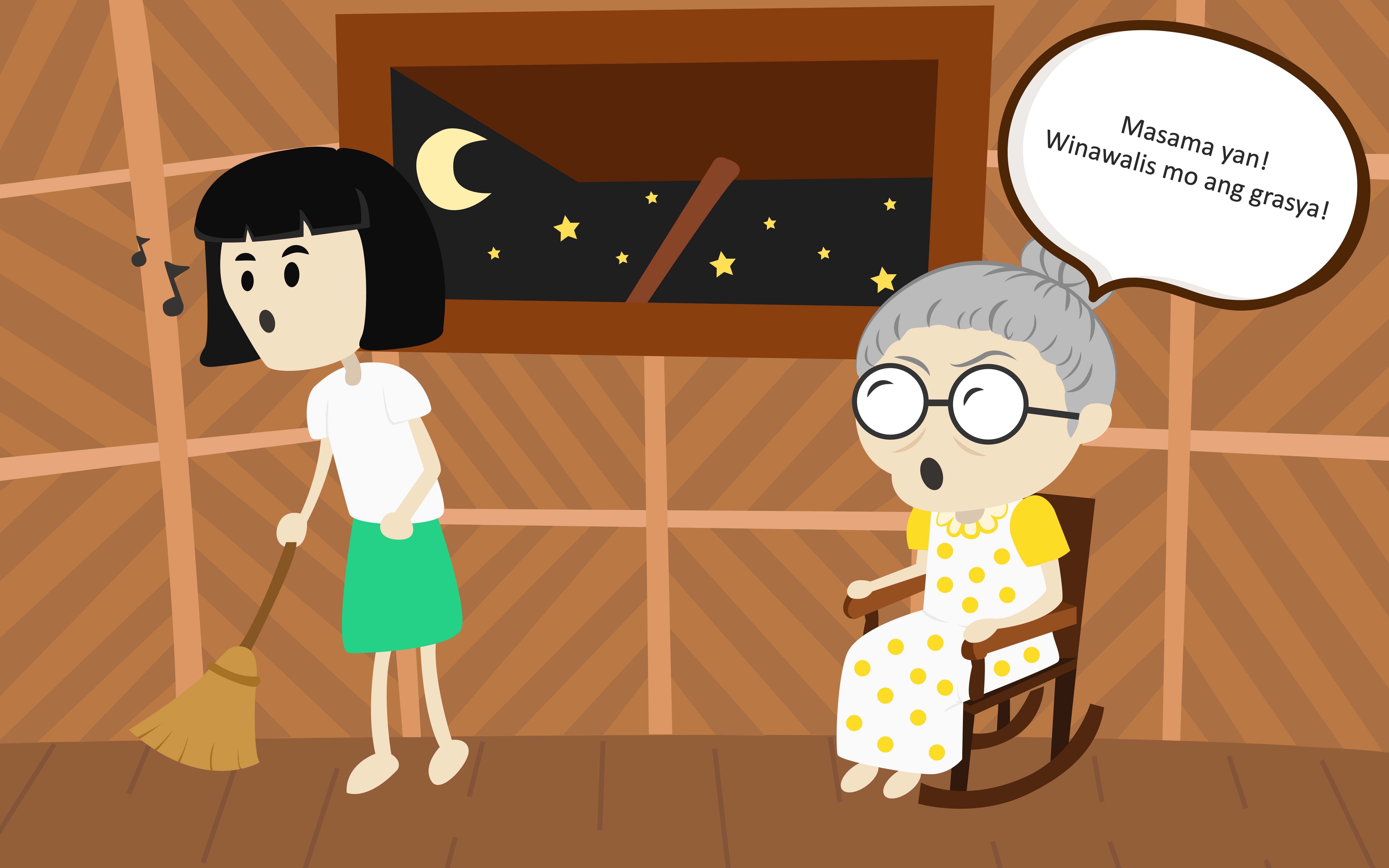 Many Filipinos are superstitious. No matter how young and modern you are, your superstitious blood still flows in your veins. Growing up in a family with so many mythical beliefs is grueling. Maraming bawal! Sometimes you get surprised because lola will scold you for doing something you didn't know was wrong. Can you still remember the common Filipino superstitions? You may find a few of them here in our list of funniest and most useless native beliefs.
Filipino Superstitions That Are Funny and Useless—Yet We Still Practice Them Anyway
1. Sweeping the floor at night will drive away incoming blessings.
One of the popular Filipino superstitions our lolo and lola tell us is not to sweep the floor at night—no matter how dugyot it is because it's malas. Our ancestors may have forgotten that having allergies, cold, and dirty feet we can get from dirt and dust aren't blessings.
2. Singing while cooking will make you single for the rest of your life. However, a few says you'd end up with a much older spouse.

To all single ladies and gents, DON'T YOU DARE sing while cooking, lest you'll never find your fated love or you'd marry someone way older. At least, those are what our mapamahiing grandparents say. Come on, can we not associate singlehood with everything that happens within the household?
3. Groupfie of 3? The person in the middle will be the first to die.

This most common Filipino superstitions scared teenagers in the '90s. Aminin mo, once in your life you included an "extra friend" in the groupfie, so none among the three of you will die. "Apat dapat," ika nga.
4. Combing your hair at night will bring bad luck.

'Yung totoo, what's wrong with being clean and hygienic at night? Is it still good luck when you wake up with your hair so tangled pwede nang pamugaran ng ibon? On a positive note, it lets you do almost nothing at night. Huwag nang maglinis o magsuklay, derechong tulog na. The dirt and the kuto can wait in the morning.
5. To keep skin acne-free, girls should wash their face with the discharge from their very FIRST MENSTRUAL PERIOD.

Do you still remember when your family rejoiced after you told them you had your first period? "Yes, may dalaga na kami!" It may be appalling, too, to hear your lola say, "O siya, ipahid mo na 'yan sa mukha mo para hindi ka tigyawatin!" Thank you, but no thank you po.
6. Don't sleep with your hair wet; otherwise, you'll lose your mind.

We've been discussing pamahiin for a long time. Minsan, kahit nilalamon na tayo ng antok, we stay up late just to dry our hair. In fact sleeping with your hair wet is bad—for it is in its weakest state. Therefore, when you neglect to dry your hair before going to bed, it can lead to hair damage and breakage. 'Wag pag-isipan ng iba 'yan, bes, baka matuluyan kang mabuwang.
7. When you bite your tongue, someone is thinking of you.

Nakagat mo ba dila mo? Sige, ask someone to give a number. Tapos, 'yung number na 'yun i-convert mo sa alphabet. Kung sino 'yung taong naisip mo sa alphabet na 'yun, iniisip ka n'ya ngayon.
Come on! What's fun with this Filipino superstition is naming the corresponding letter and the chance to fantasize that maybe (just maybe) your crush thinks of you, too.
8. A couple shouldn't eat from the same plate or soon they'll fall apart.

Although absurd, this one makes sense: Go get a partner who's as matakaw as you are but don't dare share food in a single plate. Siguradong mag-aaway kayo because neither of you didn't share the last piece/bite with the other. Charot!
9. Don't trim your fingernails and toenails at night because it will bring you bad luck.

Our ancestors may have issues with cleaning at night. It could be, too, they're just like us who make such a pamahiin to skip doing household chores and go straight to bed. Sleep the pain, my friend. Your ingrown toenail can wait 'til the morning.
10. Avoid getting a wound or injury on Good Friday because it will never heal.
Why so? Our grandparents tell us not to get hurt on Biyernes Santo because that's the day Jesus Christ died. Walang gagamot sa sugat o injuries mo. Bet you used to overthink about this myth when you were a child—and had wounds.
Walang masamang maniwala, but always remember your luck and fate don't revolve around household or body stuff. You draw your fate with on the choices you make in the present, so chill lang. As long as you make the right decisions, you'll be fine. You're miles away from malas. 🙂
If it's not pamahiin, it's New Year Resolutions that we can struggle to believe and do. How many of these absurd Filipino superstitions do you used to believe? Share your thoughts in the comment box! Don't forget to share this blog to your mapamahiing friends and family.