Valentine's Day is a once-in-a-year event where we go red and mushy. For instance, we give presents to our loved ones such as greeting cards, chocolates, stuffed toys, and red roses—as a way of saying I love you or "Mahal kita."  As if gifts aren't sentimental enough, some of us—especially the gents—want to go extra and arrange dates to make this day extra memorable and special.
Speaking of dates, we all have our own stories to tell. In commemoration of this wonderful event, we let our fellow FilWebers share their most unforgettable Valentine's Day memories. Proceed with caution, though. Their stories are so adorable it will give you the ticket to the train of feels!
**Disclaimer: Entries have been edited for length and clarity.
A perfect Valentine's Day doesn't always have to be a bouquet of red roses, a box of chocolate, and a gigantic stuffed toy. Sometimes it can be achieved with only a dose of your favorite cartoon character.
"My boyfriend surprised me with my favorite cartoon character—a bouquet of fist-sized Doraemon and a large huggable one, complete with sweet  chocolates na binusog 'yung buong linggo ko."
– Celine Gian Garcia | Career Development Specialist, CDD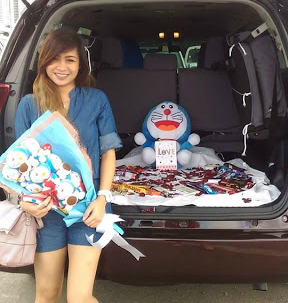 Photo credits to Gian Garcia
Let alone the best Valentine's gift is not always a tangible or a material thing. Sometimes, it's something far more precious and beautiful like a God-sent angel.
"The 14th of February is one of our most favorite dates every year since 2014, because it's our pretty little princess' birthday. Her birth date is also a cool anagram, 02-14-2014, which makes it even more special, just like how special our baby Kiora is to us. While every other couple is out and about having romantic dinners, my hubby and I are having sweetest moments with the cutest V-Day gift in the world!
In addition, our dear friend (my hubby's best buddy) was having the worst V-Day of his life. He was out of the dating scene for far too long. Just when he decided that he wanted to finally take the dive, his date stood him up. He was too sad to go home, so he called us and found out that we had our baby on V-day. "Buti na lang andito si Kiora, may maka-date na ako lagi sa Valentine's Day." Like an unofficial and self-proclaimed tito-ninong for our baby. Since then, she's got him wrapped around her tiny fingers. He comes to visit her regularly and showers her with gifts. He's never forgotten a birthday, even when he already has a gf now. He was there during the first hours of our baby's life and he was there for us and most especially for her ever since."
– Cam Ople | Writer, DCM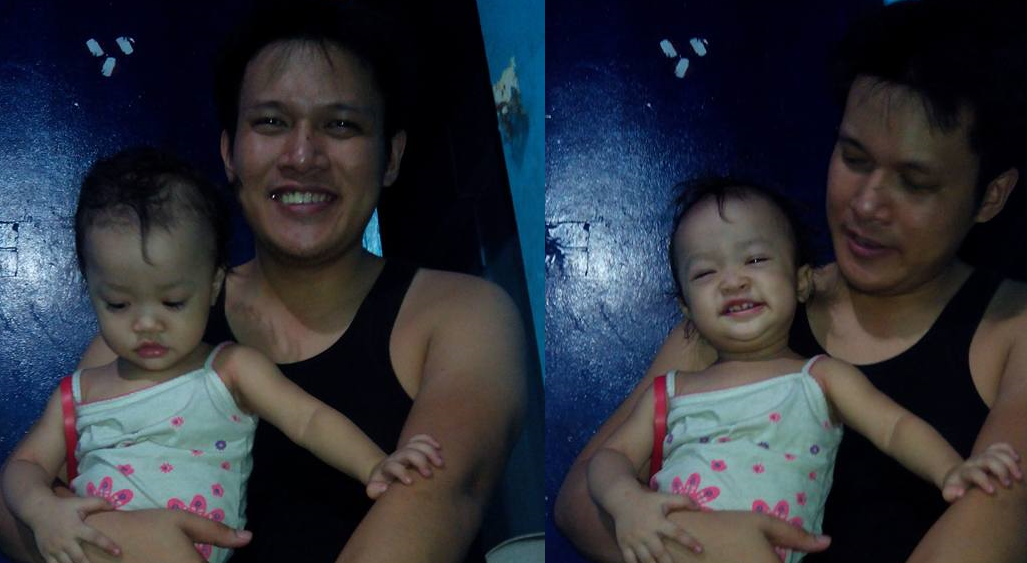 Photo credits to Cam Ople
Sad reality is, not everyone is living on cloud 9 during Valentine's Day. There are people who will never look at this day the same way again after losing someone dearest to them.
"When you say Valentine's Day, you are talking about true love, oozing happiness and surprises. But we haven't felt any of these from last year's Valentine's Day. We were surprised of what happened. My beloved cousin died. We were grieving. The pain is still here and that tragic incident is still fresh in our minds considering Valentine's Day as the new All Soul's Day for our family. Hence, a  very memorable Valentine's Day story for me."
– Hannah Alforque | Career Development Specialist, CDD
If there's a perfect love story to tell, it's the day you met and later on, started dating with your soulmate on February 14th.
"The day I met my partner, Mikkee. Usually, some of us think, ang baduy naman or corny pag monthsary/anniversary ng magbf-gf 'yung Feb 14, Valentine's Day rin. Or others will say, okay yun kasi double celebration na, which is actually true. Feb 14, 2012 po when we officially started our relationship and we didn't really plan it to be that day, it just happened. Na-target daw po kami ni kupido!"
– Jean Arahan | Support Team, CDD
While most couples are having well-planned dates, there are few couples who had their relationship tested first to prove that not even a series of unfortunate events will shake them.
"3 years ago, na-late ako ng almost 2 hours sa call time namin. So syempre badtrip na si GF (Jonnah), ayaw na nya tumuloy sa Alabang kaya niyaya ko na lang siya sa Sbarro SM Sta. Rosa. Pagpunta namin doon, wala ng natira sa Sbarro at mag-sasara na ang mall kasi hanggang 10P.M., lang pala sila (na akala ko 12am kasi V-day naman). Lalung nabadtrip si GF at sobrang nasira ko ang plano namin. Sabi ko sakanya mag McDonald's nalang kami sa Olivarez. Habang nagaabang kami ng masasakyan umulan ng sobrang lakas. Sobrang hassle at lalung nawalan ng gana si GF ituloy ang date namin.
On the way, may isang kainan sa may tapat ng Caltex, Biñan (Food Central) na bukas pa ng mga oras na yun. Nakita namin na sobrang romantic ng set up and may live band. bigla kong nasigawan yung driver ng jeep, "MANONG PARAAAAA!!!". Sobrang natuwa ako kasi when I looked at her, nakita ko syang nakangiti habang nakatingin sakin. I kissed her at sabi ko kaya pala hindi okay sa mga napuntahan natin kasi dito tayo dadalhin para mag-celebrate ng Valentine's Day.
Hindi lang kami nag-enjoy nung gabing yun, naiuwi din namin ni GF yung souvenir nilang heart balloon na nakalagay sa cute na paso."
– Gabriel Salazar | MIS Officer, MIS Department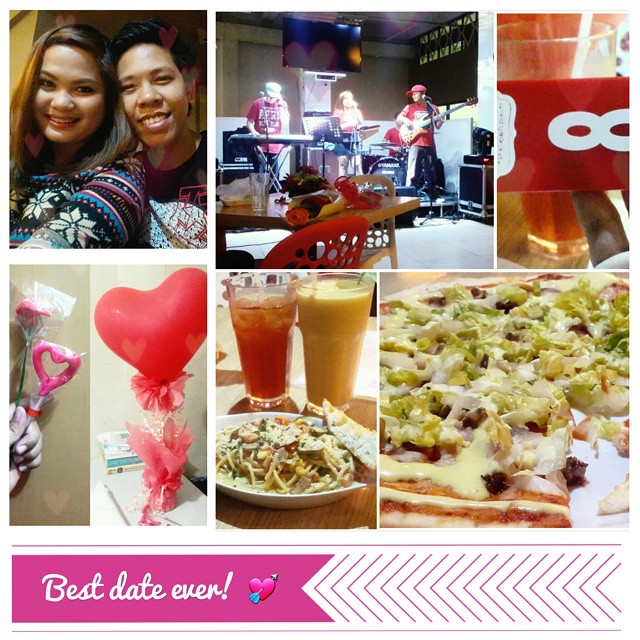 Photo credits to Jonnah Dela Cruz
If there's a life lesson we should treasure from Valentine 's Day, it's that we should always make an effort to make our loved ones feel special—even if it's not V-day.
"My most memorable Valentine's Day story was the first time I gave flowers to my girlfriend—after 5 years of relationship. I did this because I believe that you don't need to give her flowers or chocolates just because it is Valentine's Day. You must exert effort most of the time to make her feel that she's special."
– John Martin Pareja | Web Designer, WDD
And who says Valentine's Day is only for couples? February 14th should also remind you that the greatest love you can ever have is the one from those who loved you since day one—your family.
"I didn't have any romantic relationships for more than 3 years now. I also can't recall any special moments that I've had with my past relationships during V-day. So that's why there's nothing special about Valentines for me.
But even if I didn't have a boyfriend/partner, last year's event was what I consider as my most memorable Valentine's Day. My two brothers surprised me with roses, sunflowers, chocolates, and even balloons. I find it really sweet 'cause they're not that really expressive to me. This just proves that you don't need a valentine date to celebrate Valentine's Day. Your family and friends are more than enough."
– Charlene Ruiz | Social Media Specialist and Graphic Design Specialist, DCM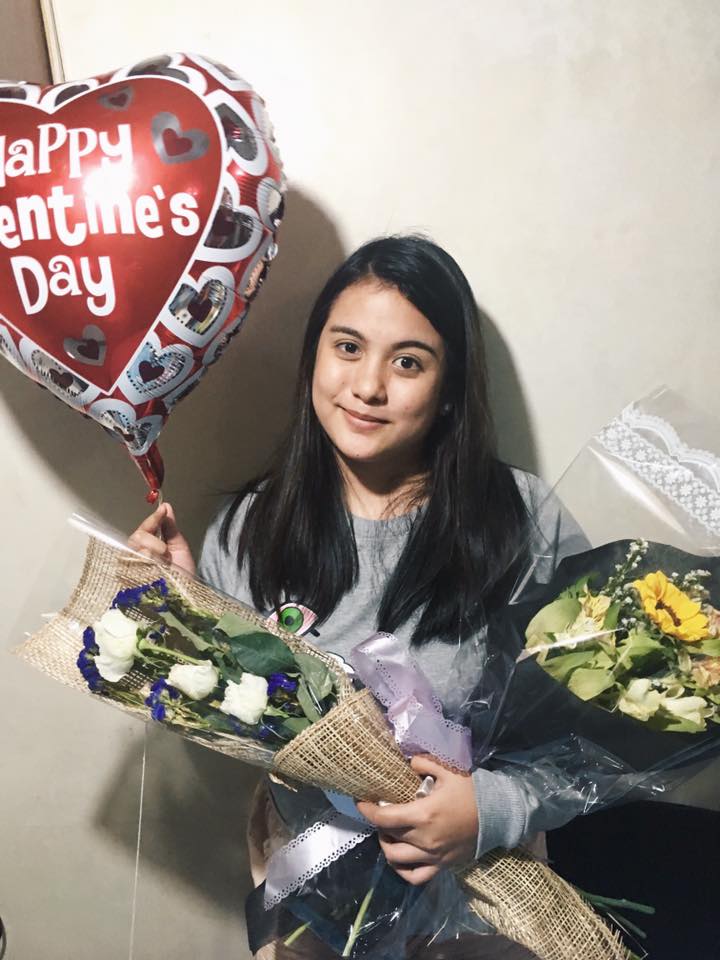 Photo credits to Charlene Ruiz
Finally, expensive gifts are overrated. You can make someone's Valentine's Day a very simple, yet extra unique and special. All hearts to couples who find joy in simple deeds!
"'Yung hindi ko makakalimutang Valentine's day story ay noong may nag-surprise sakin ng Champorado. Yun daw yung gift niya sakin kasi chocolate din naman daw yun bonus na daw 'yung kanin."
– Kris Buhay | Multimedia Specialist, DCM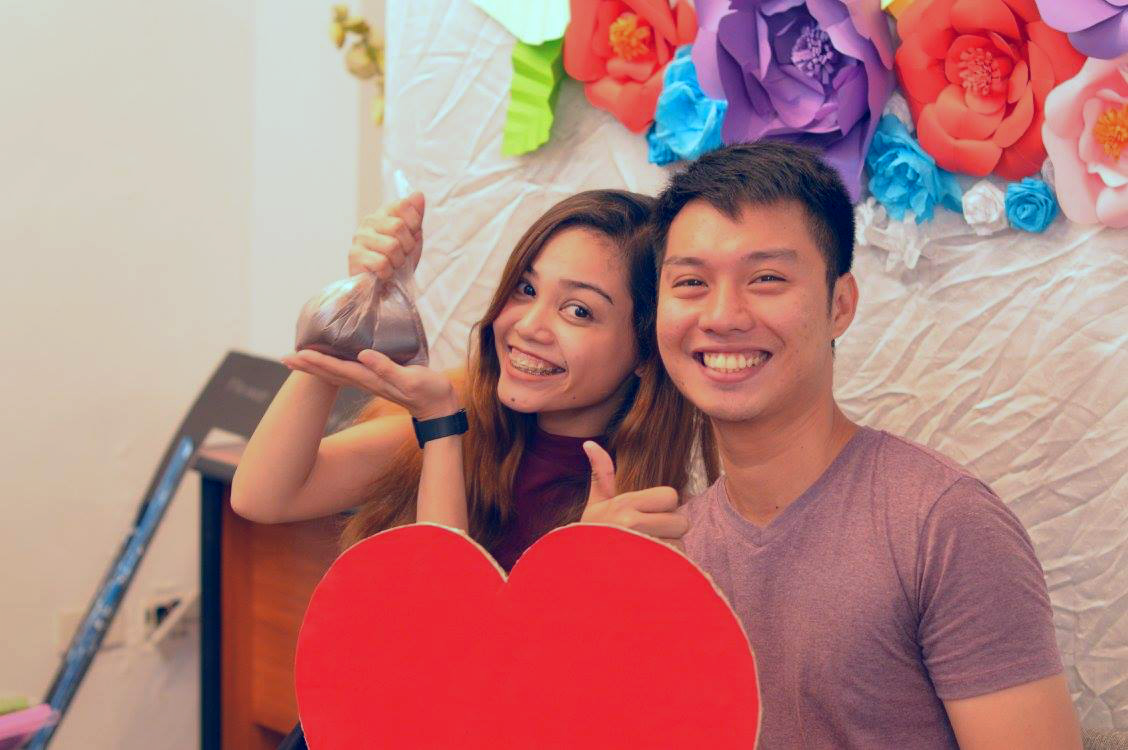 Photo credits to Filweb Asia Inc.
Did their stories make you swim the sea of emotions or in bitter remarks? If you have your own memorable Valentine's Day story, don't think twice to share it on the comment section. We all want to hear it. Share this article to spread love vibes this month of hearts!
Happy Valentine's Day from all of us in FilWeb Asia!