Have you been hoping to fill in your Instagram pages and planners with your dream vacations and holiday getaways? Start marking your calendars now because Malacañang has already released the list of holidays for 2018.
Use your leave credits wisely by filing them next to the ten (10) regular holidays, six (6) special non-working days, and two (2) additional special non-working days that you will get to enjoy next year.
If you're planning to relax and achieve your travel goals this 2018, check out the infographic below and file your vacation leaves strategically.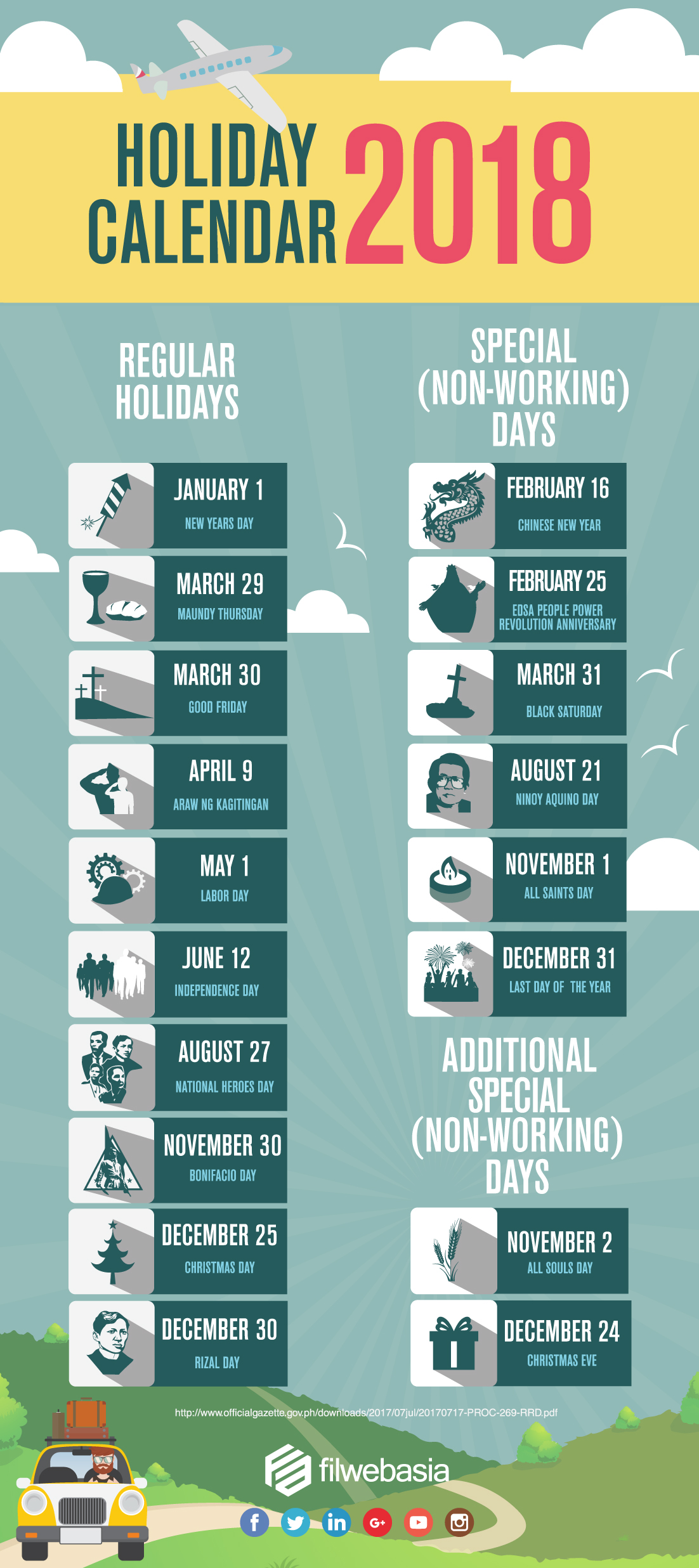 List of 2018 Holidays and Long Weekends
December 30 (Saturday) and 31 (Sunday) and January 1 (Monday, New Year's Day)
February 16 (Friday, Chinese New Year), 17 (Saturday), and 18 (Sunday)
March 29 (Maundy Thursday), 30 (Good Friday), 31 (Black Saturday), and April 1 (Easter Sunday)
April 7 (Saturday), 8 (Sunday), and 9 (Monday, Araw ng Kagitingan)
August 25 (Saturday), 26 (Sunday), and 27 (Monday, National Heroes Day)
November 1 (Thursday, All Saints Day), 2 (All Souls Day), 3 (Saturday) and 4 (Sunday)
November 30 (Friday, Bonifacio Day), December 1 (Saturday), and 2 (Sunday)
December 29 (Saturday), 30 (Sunday, Rizal Day), 31 (Monday, Last Day of the Year) and January 1, 2019 (Tuesday, New Year's Day)
When to File Your Vacation Leaves for 2018
To help you maximize your limited leave credits and plan your holiday getaways right, FilWeb Asia listed the following dates when you can file your vacation leaves next year.
March 26, 27, and 28 (Holy Monday, Holy Tuesday, and Holy Wednesday) – Holy Week
April 30 (Monday) – Labor Day Weekend (4 Days Vacation)
June 11 (Monday) – Independence Day Weekend (4 Days Vacation)
August 20 (Monday) – Ninoy Aquino Day Weekend (4 Days Vacation)
December 24 (Monday) – Christmas Holiday (4 Days Vacation)
Do you want to download this infographic for future reference? Click here to get a full-size copy.